Most people in the UK would like the option of being heavily sedated, having a general anaesthestic or to having euthanasia, if they were dying, according to Oxford research published today in the medical journal PLOS One.
Professor Dominic Wilkinson, Professor Julian Savulescu and colleagues from the Oxford Uehiro Centre for Practical Ethics, surveyed more than 500 adults in August 2020 on their views about the care of a patient who had one week to live.
The study found a high level of support for access to deep sedation in dying patients.
Some 88% said they would like the option of a general anaesthetic if they were dying. Meanwhile, 79% of those surveyed said they would like to have the option of euthanasia.
But just 64% said they would personally choose anaesthetic at the end of life and nearly half said they would not choose euthanasia for themselves or a family member.
The report maintains, 'This study indicates that a substantial proportion of the general community support a range of options at the end of life, including some that are not currently offered in the UK.'
According to Professor Wilkinson, 'Previous surveys have shown that a large proportion of the UK public wish to have the option of euthanasia. This study shows an even larger number wish to have the choice of being heavily sedated or even receiving a general anaesthetic if they were dying.'
He continues, 'Currently, in the UK it is legal for doctors to provide pain relief to dying patients, and to use sedatives if that is not enough to keep a patient comfortable. Heavy sedation is used as an option of last resort. General anaesthesia is not currently considered. But members of the general public value the option of deep sleep and complete relief from pain if they were dying. They believe that patients should be given this choice.'
Meanwhile, Professor Savulescu adds, 'Patients have a right to be unconscious if they are dying. This survey shows that the general public want to have greater choice at the end of life.'
ENDS
Notes for Editors
For more information, please contact news.office@admin.ox.ac.uk
1. The survey is based on two anonymous online surveys of members of the UK public, sampled to be representative. They were given a scenario of a hypothetical terminally ill patient with one week to live and asked about the acceptability of providing titrated analgesia, gradual sedation, terminal anaesthesia, and euthanasia.
2. Across both surveys, a majority had undertaken higher education, with seven in 10 having A levels or higher qualifications. Meanwhile, just 2.4% overall had no qualifications.
3. Just over half of all respondents said they were religious with 13.8% describing themselves as very religious.

This essay was the joint runner up in the graduate category of the 7th Annual Oxford Uehiro Prize in Practical Ethics.
Written by University of Oxford student Rebecca L Clark
A UBI is a regularly remitted, non-means-tested cash grant which is given to every individual with no conditions attached.[1] Within these constraints, UBI proposals can differ considerably. Firstly, there is a Question of Scope – namely, who constitutes 'every individual'? Secondly, there is a Question of Specification, which can be broken down into three interrelated issues:
At what level of income should a UBI be set?
Should a UBI supplement or replace existing welfare structures?
How should a UBI be funded?
I will set aside the complexities raised by the Question of Scope and focus on a UBI given to adult citizens. In response to the Question of Specification, I will consider a UBI set at a liveable wage which supplements existing welfare institutions and is funded through revenues from publicly owned assets.[2] This is for two reasons. Firstly, I take this to be the most appealing version of a UBI; hence a conclusion that feminists should reject this version would suggest that feminists should reject any UBI proposal. Secondly, I am wary of building in hard limits of political or economic feasibility into my analysis since this forecloses utopian theorising, which is valuable precisely because it challenges conventional views about what is possible. Continue reading →
Written by Julian Savulescu
Oxford Uehiro Centre for Practical Ethics and Wellcome Centre for Ethics, University of Oxford
Biomedical Ethics Research Group, Murdoch Children's Research Institute
Jose Polo and his team at Monash University have successfully reprogrammed human adult cells (fibroblasts – skin cells) to form "iBlastoids". These are structures which are like early human embryos. Normally when a sperm enters an egg, it produces a new cell, which divides, and these cells divide until a blastocyst is formed in the first week, consisting of 200-300 cells. In normal embryonic development, this would implant in the uterus. However, iBlastoids can't do this as they lack the normal membrane that surrounds the blastocyst. They cannot by themselves form a fetus or baby.
They will be useful to study early human development and why so many embryos die soon after formation. They can be used to study mutations or the effect of toxins, perhaps developing treatments for infertility. So far, they have only been allowed to develop to the equivalent of a Day 11 Blastocyst. It is not clear whether they can produce the precursors to brain development:
"the developmental potential of iBlastoids as a model for primitive streak formation and gastrulation remains to be determined, and will require an international conversation on the applicability of the 14-day rule to iBlastoids." (Excerpt from the team's Nature article)
This essay was the runner up in the undergraduate category of the 7th Annual Oxford Uehiro Prize in Practical Ethics.
Written by University of Oxford student Tanae Rao
Introduction
Most notably in the United States, some prestigious universities[1] consider whether or not a student is closely related to one or more alumni when evaluating her application. In an increasingly competitive university admissions landscape, having legacy status increases an applicant's probability of being admitted to such a great extent that over a third of Harvard's undergraduate class of 2022 is composed of legacy students.[2] This has led the New York Times Editorial Board to describe the practice as "anti-meritocratic" and "an engine of inequity".[3]
Considering the alma mater of a student's relatives when evaluating their university application seems to be wrong, or unfair, in some way. But what is the central aspect of the legacy admissions policy justifying this reaction? I consider three possible answers to this question. Firstly, I reject the academic qualification view, whereby universities should only consider if applicants will be able to meet academic requirements when making admissions decisions. This view does not reflect the actual state of university admissions today, where the number of qualified applicants often far exceeds the number of available seats. I then reject the popular view whereby universities should minimise their consideration of factors outside of the applicant's control. Though this criterion appears to meet many of our intuitions regarding university admissions, I argue that it is too restrictive, preventing reasonable factors from being considered by universities. Finally, I propose a consequentialist view, whereby admissions decisions should be based on their expected consequences to admitted students and society as a whole. This view—I contend—is a plausible explanation of why legacy admissions should be discontinued, contingent on some evaluative questions. Continue reading →
By Jonathan Pugh, Dominic Wilkinson, and Julian Savulescu
The authors are working on the UK Pandemic Ethics Accelerator project – @PandemicEthics_. This project was funded by the Arts and Humanities Research Council (AHRC) as part of UKRI's Covid-19 funding.  All authors are affiliated to the University of Oxford.
Summary Points
Preliminary Reviews suggest that the number of thrombotic events in individuals who have received the Astra Zeneca vaccine is not greater than the number we would normally expect in this population.
It is crucial that we closely monitor these adverse events. The regulation of new medical interventions always requires us to manage uncertainty.
A precautionary approach to managing this uncertainty may be important for ensuring continued confidence in vaccination.
Regulators must weigh the potential risk suggested by these reports of adverse events following vaccination against the harm that suspension of the vaccine could have.
The harm of suspending the use of the Astra Zeneca vaccine depends on how many preventable deaths we can expect by suspending its use.
Amongst other things, this will depend on (i) how many people will be delayed in receiving a vaccine as a result (ii) the mortality risk of the people who would be prevented from receiving a vaccine, (iii) the prevalence of the virus at the time of the suspension, and (iv) the number of people who have received one dose of the Astra Zeneca vaccine, but not a second.
Written by Dominic Wilkinson and Jonathan Pugh
This article is republished from The Conversation under a Creative Commons license. Read the original article.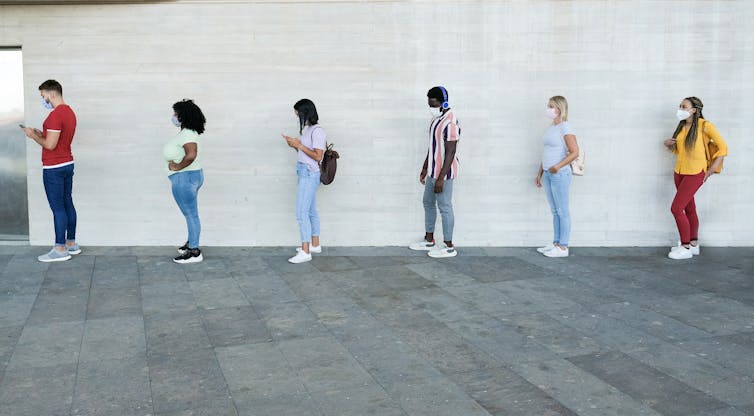 In the UK, an Oxford city councillor has been suspended after mentioning on social media that she had received a COVID vaccination from a private doctor. Meanwhile, media reports suggest that two Spanish princesses, who did not yet qualify for vaccination in Spain were vaccinated while visiting their father in the United Arab Emirates. They are among a number of ultra-wealthy people getting vaccinated in that country.
There have also been reports of people accessing vaccines early in the UK, despite not being in any of the groups prioritised for vaccination at the time.
So how concerned should we be about these cases? Continue reading →
This essay was the winning entry in the undergraduate category of the 7th Annual Oxford Uehiro Prize in Practical Ethics.
Written by University of Oxford student Imogen Rivers 
I. The Complacency Argument
Some of the most serious wrongs are produced collectively. Can individuals bear moral responsibility for such outcomes? Suggestively, it's been argued that "all who participate by their actions in processes that produce injustice [e.g. "sweatshop" labour] share responsibility for its remedy";[1] "citizens… bear partial responsibility for the election outcome. Even if an individual's vote is not decisive for a given candidate's victory";[2] "those who contribute to climate change… (by using… excessive… fossil fuels or by deforestation) should make amends".[3]
However there's a prevalent defence: it makes no (significant) difference if I do it. For example, "global warming will still occur even if I do not drive [my "gas-guzzler"] just for fun";[4] "my polluting doesn't actually harm anyone, since it doesn't make a difference to anyone's health";[5] "why [should citizens] vote even if… each particular vote does not make a difference to the outcome"?;[6] "British officials… dismiss suggestions that our role on the ground in Saudi Arabia makes any difference [to targeting Yemeni civilians]".[7]  Continue reading →
By Charles Foster

Ethics and law are different. Or they should be.
Law has the power to coerce. That is a frightening power. There should be as little law as possible. But there should be more ethics than there is.
The boundary between the two domains is not absolute. Clinicians are probably more frightened of being struck off by the General Medical Council (GMC) (after an adjudication on their ethics by the Medical Practitioners' Tribunal Service) than they are about an order by a civil court that compels their insurers to pay damages for clinical negligence. The exercise of the GMC's statutory powers can be draconian: the existence of those powers, and the associated sanctions, is certainly coercive.
But although the boundary is sometimes blurred, it is still real. It is the job of the law to keep it from becoming dangerously permeable. In a recent case the law was caught napping. Continue reading →
Audio and Video recordings of Professor Morten L. Kringlebach (Aarhus University, Denmark; University of Oxford) online St Cross Seminar (21 January 2021) are now available.