Written by Dr Rebecca Brown
It has become commonplace to identify a lack of impulse control as a major cause of poor health. A popular theory within behavioural science tells us that our behaviour is regulated via two systems: the fast, impulsive system 1 (the 'impulsive' or 'automatic' system) and the slower, deliberative system 2 (the 'reflective' system). Much of our behaviour is routine and repeated in similar ways in similar contexts: making coffee in the morning, travelling to work, checking our email. Such behaviours develop into habits, and we are able to successfully perform them with minimal conscious input and cognitive effort. This is because they come under the control of our impulsive system.
Habits have become a focus of health promoters. It seems that many of these routine, repeated behaviours actually have a significant impact on our health over a lifetime: what we eat and drink and how active we are can affect our risk of developing chronic diseases like type II diabetes, heart disease, lung disease and cancer. Despite considerable efforts to educate people as to the risks of eating too much, exercising to little, smoking and drinking, many people continue to engage in such unhealthy habits. One reason for this, it is proposed, is people's limited ability to exert conscious (reflective) control over their habitual (impulsive) behaviour.
Given this, one might think that it would be preferable if people were generally able to exhibit more reflective control; that behaviour was less frequently determined by impulsive processes and more frequently determined by reflective deliberation. Perhaps this could form part of the basis for advising people to be more 'mindful' in their everyday activities, such as eating, and regimes for training one's willpower 'muscle' to ensure confident conscious control over one's behaviour. Continue reading →
Suppose a religious community regards a site – with, say, a stone circle – as sacred. It has for centuries been used as a place of prayer and contemplation. The land is owned by the state and they want to sell it off to build apartment blocks. You might think that the deep attachment the religious community has to this place of worship is what gives it some right to protect the site. But Lea Ypi of the London School of Economics, is not so sure.
Lea Ypi's paper 'Structural Injustice and the Place of Attachment', was published in the Journal of Practical Ethics, Vol 5 No.1.
In response to her paper Lea Ypi has been interviewed by David Edmonds for the Philosophy 24/7 podcast series. The podcast is available here on the Philosophy 24/7 website
Lea Ypi is Professor in Political Theory in the Government Department, London School of Economics, and Adjunct Associate Professor in Philosophy at the Research School of Social Sciences, Australian National University. Before joining the LSE, she was a Post-doctoral Prize Research Fellow at Nuffield College (Oxford) and a researcher at the European University Institute where she obtained her PhD. Her website is here.
Novel gene editing technologies, such as CRISPR/Cas9, allow scientists to make very precise changes in the genome of human embryos. This could prevent serious genetic diseases in future children. But the use of gene editing in human embryos also raises questions: Is it safe? Should prospective parents be free to choose the genetic characteristics of their children? What if they want to use gene editing to have a deaf child, or a child with fair skin and blue eyes? Should gene editing be regulated globally, or should each country have their own legislation? In this interview with Katrien Devolder, John Harris (Professor Emeritus, University of Manchester &  Visiting Professor in Bioethics, King's College London) answers these and other questions, and defends the view that we have the strongest moral obligation to gene-edit human embryos, not only to prevent disease but also for the purpose of enhancement.
Written by Michael Robillard
            "Let me have war, say I: it exceeds peace as far as day does night; it's spritely, waking, audible, and full of vent. Peace is a very apoplexy, lethargy; mulled, deaf, sleepy, insensible; a getter of more bastard children than war's a destroyer of men."
― William Shakespeare, The Tragedy of Coriolanus
As 21st century technology continues to progress at an ever alarming pace, the science-fiction notion of 'human enhancement' looks, day by day, to be an ever-approaching reality. Neuro-chemical enhancement, genetic enhancement, man/machine pairing; each of these emerging technologies carries with it, both individually and collectively, a host of ethical worries concerning the well-being, autonomy, and identity of the individual person. These ethical worries arguably become even more problematic and complex when considering the specific enhancement of soldiers.
In addition to the many ethical concerns surrounding human enhancement in general, the issue of soldier enhancement in particular appears to come with its own set of unique moral problems. This is so, at least in part, since the role of soldier often requires the promotion of attributes, aspects of character, and capacities that are arguably virtuous within the context of war but potentially vicious within the context of otherwise 'normal' society. Indeed, a propensity towards obedience, a disinhibition towards violence, extreme tolerance for risk, and being exceptionally skillful at the trade of killing are not typical attributes we would consider noble or praise-worthy within the day-to-day domestic sphere, though they are attributes absolutely vital for success on the battlefield. Continue reading →
Written by Neil Levy
As I have discussed previously, there is a growing concern about the use of 'ableist' language. Ableism is discrimination on the basis of disability, when disability is not in fact relevant. There has long been a move to eradicate sexism from our language. Most of us do not think it's appropriate to use 'effeminate' as an insult; many of us object to the use of language that makes maleness the standard ('mankind'). Similarly, many people object to the use metaphorical language which associates negative qualities with disability (while I am ambivalent about the use of trigger warnings, I take the opportunity to mention that I will mention some egregiously ableist slurs below the fold). Continue reading →
We were extremely honoured to welcome Professor Larry Temkin (Rutgers University) to Oxford to deliver the 2017 Annual Uehiro Lectures on 6, 8 and 10 November.  The engaging lectures were fully booked well in advance, and were each followed by a lively discussion.  Continue reading →

By Brian D. Earp (@briandavidearp)
Republican politician Roy Moore has been accused of initiating sexual contact with a 14-year-old girl when he was in his early 30s. Social media sites have since exploded with comments like these:
Roy Moore is now FUNDRAISING to conservative Christians after being outed as a pedophile.

This is truly sick. pic.twitter.com/NF5NLIGWKA

— Mikel Jollett (@Mikel_Jollett) November 9, 2017
Roy Moore is a sick man. He is a pedophile. This story is deeply sourced. It is credible and I believe the women.

— Steve Schmidt (@SteveSchmidtSES) November 9, 2017

by Dominic Wilkinson (@Neonatalethics)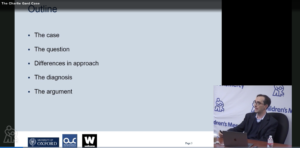 Webinar given recently for the Children's Mercy Centre for bioethics as part of the excellent (and free) Children's Mercy webinar series (great resource for those interested in paediatric bioethics) Continue reading →
It is with great pleasure that we announce the opening of the 4th annual prize in practical ethics.  All graduate and undergraduate students currently enrolled at the University of Oxford in any subject are invited to enter the Oxford Uehiro Prize in Practical Ethics by submitting an essay of up to 2000 words on any topic relevant to practical ethics.  Eligibility includes visiting students who are registered as recognized students, and paying fees, but does not include informal visitors.  Two undergraduate papers and two graduate papers will be shortlisted from those submitted to go forward to a public presentation and discussion, where the winner of each category will be selected.
The winner from each category will receive £300, and the runner up £100. All four finalist essays will be considered for publication in the Journal of Practical Ethics.
To enter, please submit your written papers by the end of 1st February 2018 to rocci.wilkinson@philosophy.ox.ac.uk.
Finalists will be notified in early to mid February. The public presentation will take place in 6th Week, Hilary term 2018. 
Should we pay people to quit smoking or lose weight? Would paying them amount to coercion?  Is there a risk that if we start paying for healthy behaviour, its value will be corrupted? Is paying unhealthy people unfair to those who already lead healthy life styles? In this video interview (with Katrien Devolder),  Dr Rebecca Brown from the Oxford Uehiro Centre for Practical Ethics responds to these and other concerns and defends the use of financial incentives as a tool for health promotion.