Written by Charles Foster, Research Associate, University of Oxford
This article was originally published in The Conversation
I have lived as a badger in a hole in a Welsh wood, as an otter in the rivers of Exmoor, an urban fox rummaging through the dustbins of London's East End, a red deer in the West Highlands of Scotland and on Exmoor, and, most hubristically, a swift, oscillating between Oxford and West Africa. For this I was recently awarded an Ig Nobel Prize for "achievements that make people laugh, and then think". Why I did this is not an unreasonable question. There are many answers. One is that I wanted to perceive landscapes more accurately. Continue reading →
Written by Professor Neil Levy, Senior Research Fellow, Uehiro Centre for Practical Ethics, University of Oxford
This article was originally published on The Conversation
Why do we think that climate sceptics are irrational? A major reason is that almost none of them have any genuine expertise in climate science (most have no scientific expertise at all), yet they're confident that they know better than the scientists. Science is hard. Seeing patterns in noisy data requires statistical expertise, for instance. Climate data is very noisy: we shouldn't rely on common sense to analyse it. We are instead forced to use the assessment of experts. Continue reading →
By Guy Kahane
These days it seems as if every couple of weeks or so we get reports about newly discovered planets that are ever more similar to Earth. The most recent discovery, planet Proxima b, is the closest planet found so far; Scientific American called it 'the Earth next door'. Last October, an amateur group of astronomers noticed that the star KIC8462852 was flickering in an odd way, its brightness changing by up to 22 per cent, a much larger change than could be explained by any familiar cause. Some science fiction fans speculated that this might be a 'Dyson Sphere'—signs of a super-advanced civilization desperately trying to harness energy from their sun. No convincing explanation of this effect has been found so far, and another star, called EPIC 204278916, was recently spotted exhibiting the same mysterious flicker. Then it was reported that Russian radio astronomers recorded a two-second burst of mysteriously strong radio waves coming from a sun-like star in the Hercules constellation.
We know we shouldn't get too excited. Even if there are numerous Earth-like planets out there, they may all be lifeless. And scientists will probably eventually find perfectly natural explanations for these strange flickers and signals (the Russian report already seems to be a false alarm, caused by terrestrial interference). But still: it's hard not to anticipate the day—perhaps in the coming few years, perhaps later in our lifetime—when strong, perhaps undeniable evidence of intelligent life elsewhere in the universe will emerge. It sure feels as if that will be an incredibly important discovery. Arthur C. Clarke once said that "there are two possibilities: either we are alone in the universe, or we are not. Both are equally terrifying." But it's not that easy to explain why.
Kuwait is planning to build a complete DNA database of not just citizens but all other residents and temporary visitors. The motivation is claimed to be antiterrorism (the universal motivation!) and fighting crime. Many are outraged, from local lawyers over a UN human rights committee to the European Society of Human Genetics, and think that it will not be very helpful against terrorism (how does having the DNA of a suicide bomber help after the fact?) Rather, there are reasons to worry about misuse in paternity testing (Kuwait has strict adultery laws),  and in the politics of citizenship (which provides many benefits): it is strictly circumscribed to paternal descendants of the original Kuwaiti settlers, and there is significant discrimination against people with no recognized paternity such as the Bidun minority. Plus, and this might be another strong motivation for many of the scientists protesting against the law, it might put off public willingness to donate their genomes into research databases where they actually do some good. Obviously it might also put visitors off visiting – would, for example, foreign heads of state accept leaving their genome in the hands of another state? Not to mention the discovery of adultery in ruling families – there is a certain gamble in doing this.
Overall, it seems few outside the Kuwaiti government are cheering for the law. When I recently participated in a panel discussion organised by the BSA at the Wellcome Collection about genetic privacy, at the question "Would anybody here accept mandatory genetic collection?" only one or two hands rose in the large audience. When would it make sense to make mandatory genetic information collection? Continue reading →
by Professor Dominic Wilkinson, @Neonatalethics
Professor of Medical Ethics, Consultant Neonatologist
Our society has good reason to provide special treatment to people with severe brain injuries and their families.
But our current "special treatment" for a group of the most severely affected people with brain injuries leads to devastating, agonising, protracted and totally preventable suffering.
Doctors have values. These are sometimes described as their conscience. Those values can conflict with what has evolved to be medical practice. Where that practice is consistent with principles, concept and norms of medical ethics, their values should not compromise patient care. The place for doctors to express their values and seek to revise the practice of medicine is at the level of policy and law, not at the bedside. Because conscientious objection can compromise patient care, there should be no legal right to conscientious objection to medical practice that is consistent with medical ethics. Personal values ("conscience") can be accommodated by employers under standard labour law as occurs in Sweden and Finland, or candidates selected for medical specialties who have values consistent with ethical medicine, or new professions developed to provide those services.
Doctors may have very defensible values. But just because their values are reasonable does not imply they should be accommodated by medicine. Consider the Conscientious Neonatologist.
The Conscientious Neonatologist
Peter is a thoughtful, reflective specialist caring for premature babies in intensive care. He is a vegetarian for 20 years. He became deeply concerned about the welfare of animals during his university years. He believes in "animal liberation". Neither he nor his family consume meat or use animal products for clothing.
In his job, he must prescribe "surfactant" – a substance to help the lungs of premature babies function better. The standard, and most effective form is derived from the lungs of pigs. However there is a new artificial form. He considers this a more "ethical" product and considers using it in his medical practice. However, it is not currently used in the newborn intensive care unit because it is more expensive than standard treatment, and there is not clear evidence about its effectiveness.
Peter conscientiously objects to the use of animals in medicine and medical research. How should his personal values influence his professional practice?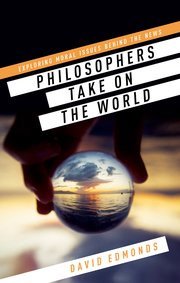 We are pleased to announce the publication of David Edmonds' Philosophers Take on the World, an edited collection of short essays, many of which are by our bloggers.
Every day the news shows us provoking stories about what's going on in the world, about events which raise moral questions and problems. In Philosophers Take On the World a team of philosophers get to grips with a variety of these controversial issues, from the amusing to the shocking, in short, engaging, often controversial pieces. Covering topics from guns to abortion, the morality of drinking alone, hating a sports team, and being rude to cold callers, the essays will make you think again about the judgements we make on a daily basis and the ways in which we choose to conduct our lives.
Smartphones are like spies in our pocket; we should cover the camera and microphone of our laptops; it is difficult to opt out of services like Facebook that track us on the internet; IMSI-catchers can 'vacuum' data from our smartphones; data brokers may  sell our internet profile to criminals and/or future employees; and yes, we should protect people's privacy even if they don't care about it. Carissa Véliz (University of Oxford) warns us: we should act now before it is too late. Privacy damages accumulate, and, in many cases, are irreversible. We urgently need more regulations to protect our privacy.
Written by Angeliki Kerasidou & Ruth Horn, The Ethox Centre, Nuffield Department of Population Health, University of Oxford
Recently, a number of media reports and personal testimonies have drawn attention to the intense physical and emotional stress to which doctors and nurses working in the NHS are exposed on a daily basis. Medical professionals are increasingly reporting feelings of exhaustion, depression, and even suicidal thoughts. Long working hours, decreasing numbers of staff, budget cuts and the lack of time to address patients' needs are mentioned as some of the contributing factors (Campbell, 2015; The Guardian, 2016). Such factors have been linked with loss of empathy towards patients and, in some cases, with gross failures in their care (Francis, 2013). Continue reading →