By Dominic Wilkinson @Neonatalethics 
and Keyur Doolabh, Medical Student, Monash University
Towards the end of last year, and over the first months of 2016, there were alarming reports of the explosive spread of Zika virus infection in South America. As many as 1.5m Brazilians were thought to have contracted the virus. More, worrying still, there were reports of thousands of cases of congenital microcephaly – infants born with abnormally small heads because of brain damage in the womb. Each week there appeared to be more reports and larger numbers of infants affected.
But the latest estimates from Brazil have reversed this trend. Last week, the total number of confirmed and suspected cases of Zika microcephaly is reported to be 4,759, 500 less than two months ago.
Why are the numbers of cases falling? Does this mean that earlier reports about Zika were wrong? Is the Zika panic over? Continue reading →
Imagine that an out of control trolley is speeding towards a group of five people. You are standing on a footbridge above, next to a large man. If you push him off the bridge onto the track below, his body will stop the trolley before it hits the five people. He will die, but the five others will be saved. Should you push the man off the bridge?
Before you make your decision, you should know that your popularity could depend on it. According to a new study of more than 2,400 participants, which we carried out with David Pizarro from Cornell University, the way you answer the "trolley problem" can have a big impact on how much people trust you. So let's have a look at your options.
You might say yes; saving five lives outweighs the harm of killing one person. And you wouldn't be alone: you'd be making a moral decision in line with "consequentialist" theories of morality. Consequentialists believe that we should aim to maximise the greatest good for the greatest number of people, even if this means causing some harm – for example, by killing one person to save five.
On the other hand, you might say no; killing someone is just wrong, regardless of any positive consequences there might be. Here, you'd be making a moral decision in line with "deontological" moral theories, which focus on moral rules, rights and duties. Maxims such as "thou shalt not kill" and "treat others as you would like to be treated" (otherwise known asthe golden rule) fit into this category.
Continue reading →
Nearly everyone would agree that a device or drug that relieves pain, or alleviates symptoms of depression confers a benefit – plausibly, a substantial benefit – on its user. No matter what your goals are, no matter what you enjoy, you are likely to agree that your life will go better if you are not in pain and not depressed: whether you're a painter, a footballer, a Sudoku-enthusiast or a musician, you will be better able to pursue your projects and engage in the activities you love. It is unlikely that you will even question whether pain relief or alleviation of depression indeed constitute benefits.
This general consensus with respect to medical benefits makes it relatively straightforward for regulators to conduct risk-benefit assessments of medical products when they decide whether a particular product can be put on the market. A very small risk of a mild rash or gastrointestinal upset, for example, will be considered reasonable in the context of effective pain relief, as long as patients or consumers are informed. Even as the risks get more significant, substantial pain relief will be considered a large enough benefit to out-weigh a range of negative side effects in many cases.
So far, so straightforward. Continue reading →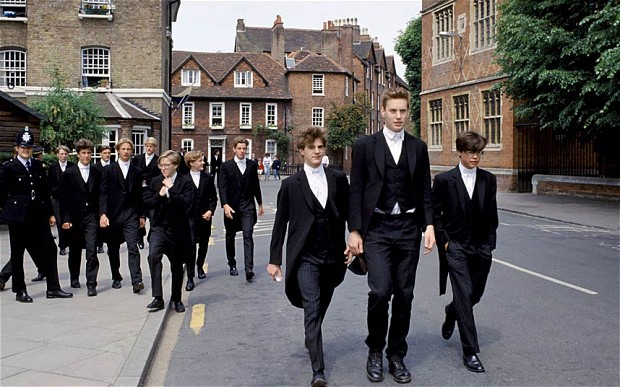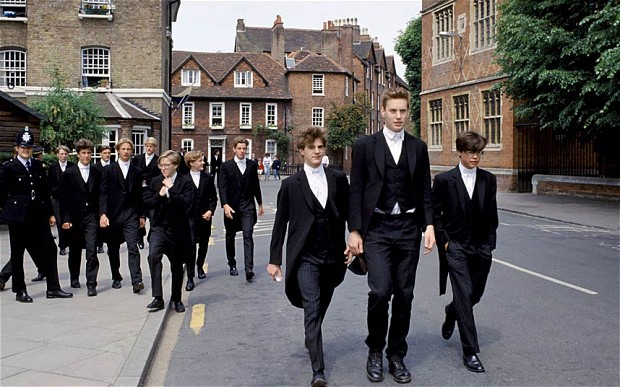 (Photo: Daily Telegraph)
I am a bitter opponent of private education. All my political hackles rise whenever the subject is mentioned.
Yet of my four currently school-aged children, one ('A') is educated privately (at a specialist choir school), and another ('B', who is dyslexic) will shortly be in private education (at a hip, Indian-cotton swathed, high-fibre, bongo-drumming, holistic school). The two others ('C' and 'D') are currently in state primary schools. There are two older children too ('E' and 'F') They were both educated privately, at a fairly traditional school.
How can I live with myself?
One way would be to avert my eyes from the apparently plain discrepancy between my actions and my political convictions. That's often been my strategy. But I want to attempt some kind of defence – at least in relation to A and B, and lay the ground for a potential defence in relation to C and D, should we choose to educate them privately. Continue reading →
Written by: Rajiv Shah, PhD Candidate, Faculty of Law, University of Cambridge
Donald Trump suggested that women who have abortions should face punishment. For that he was criticised by both the pro-choice side and the pro-life side. The latter claimed that their view is that women should not face punishment for having abortions but that only providers should. This raises the interesting question of whether the pro-life position is coherent. It would seem that it is not. If the foetus has the right to life then having an abortion is like murder and so those who abort should be treated as such. This post argues that the pro-lifer can coherently reject this implication whilst still holding that the foetus has the right to life. Since it considers the responses a pro-lifer could make this post will assume for the sake of argument that the foetus does have a right to life. Continue reading →
The Panama Papers comprise a leak of 11.5 million files from Mossack Fonseca, the world's fourth biggest offshore law firm. The leak has tainted the reputations of many celebrities, and some public officials have been forced to resign, including Icelandic Prime Minister Sigmundur Davíð Gunnlaugsoon, and Spanish Industry Minister José Manuel Soria.
Ramón Fonseca, Director of Mossack Fonseca, complained that his firm was the victim of "an international campaign against privacy." At a time where privacy does seem to be under attack on all fronts, it is relevant to ask whether the super rich ought to be able to enjoy financial privacy with respect to their offshore accounts. Continue reading →
by Dominic Wilkinson @Neonatalethics
Consultant neonatologist, Director of Medical Ethics
Next week, junior doctors in England and Wales will be taking part in industrial action for 15 hours over two successive days. This is the latest in a series of stoppages since late last year, and relates to a dispute over proposed changes to junior doctors' contracts and pay. It is the first strike, (and the first in the UK since the establishment of the NHS), to include all medical care, including emergency treatment. Junior doctors will not be at work in accident and emergency departments, intensive care units, operating theatres and hospital wards between 8 and 5 on both of those days.
There are a series of questions raised by these strikes. There are disputed claims about the impact of contract changes on take home pay, on working conditions for doctors and on patient care. There are different views about the actual impact of next week's strike on patients, on public opinion, or on negotiations about the new contract. But for the purposes of this article, I am going set those specific questions aside, and focus on a more general question. Should doctor strikes (particularly emergency care strikes) be legal, should they be allowed? Continue reading →
Written by Simon Beard, Research Associate at the Center for the Study of Existential Risk, University of Cambridge
How can we study the pathogens that will be responsible for future global pandemics before they have happened? One way is to find likely candidates currently in the wild and genetically engineer them so that they gain the traits that will be necessary for them to cause a global pandemic.
Such 'Gain of Function' research that produces 'Potential Pandemic Pathogens' (GOF-PPP for short) is highly controversial. Following some initial trails looking at what kinds of mutations were needed to make avian influenza transmissible in ferrets, a moratorium has been imposed on further research whilst the risks and benefits associated with it are investigated. Continue reading →

Philosophers Take On the World is based on this blog, 'Practical Ethics in the News', and edited by David Edmonds. It is published by OUP and is due out in September 2016.
Every day the news shows us provoking stories about what's going on in the world, about events which raise moral questions and problems. In Philosophers Take On the World a team of philosophers get to grips with a variety of these controversial issues, from the amusing to the shocking, in short, engaging, often controversial pieces. Covering topics from guns to abortion, the morality of drinking alone, hating a sports team, and being rude to cold callers, the essays will make you think again about the judgments we make on a daily basis and the ways in which we choose to conduct our lives.
This item is not yet published, but may be pre-ordered now for delivery when available.
https://global.oup.com/academic/product/philosophers-take-on-the-world-9780198753728?cc=gb&lang=en&#
Published: 01 September 2016 (Estimated)
ISBN: 9780198753728