Asbestos kills more people per year than excessive sun exposure, yet it receives much less attention. Tom Douglas (Oxford Uehiro Centre for Practical Ethics) explains why asbestos is still a serious public health threat and what steps should be undertaken to reduce this threat. And yes, the snow in The Wizard of Oz was asbestos!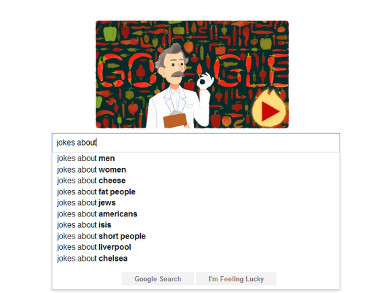 This essay received an Honourable Mention in the Undergraduate Category of the Oxford Uehiro Prize of Practical Ethics
Written by New College Oxford student Raphael Hogarth
Three moral agents walk into a bar. They get to joking and, with each round, their banter becomes more risqué. After the second pint, Agent A ventures a humourless and offensive joke about Jews and big noses: Agents B and C scowl and move on. After the third pint, Agent A has another crack with a joke about the holocaust – a more insensitive joke, but also apparently one with more potential to amuse. Agent B can't help but giggle; Agent C is incandescent with outrage. Agents A and B retort in chorus: "But it's funny!"[1] Continue reading →
Written by Richard Christian.
In a stimulating and controversial post on this blog, and later in a paper published in Think, Ole Martin Moen has argued that you should not give to beggars. His argument is simple and familiar. It is that the beggar one encounters in the rich world is, in the scheme of things, doing very well for herself. The London beggar is hungry, ragged, addicted, and schizophrenic; but she is like unto a king in comparison to the starving Ethiopian. If she receives only a few pounds a day and falls asleep in a doorway, she is still much better off than the millions of people in the world now dying for lack of food or clean water. It follows that a pound put in the hand of that beggar is a pound wasted: it should have gone to the person whose need is most urgent. Moen counsels you to ignore the beggar as you pass her on the street, and to give all your spare pounds instead to charities that assist the world's most needy. In general, in your action, you should aim to do the most good you can. I wish to say here a word in favour of the beggar, and to show what I think is wrong with this currently fashionable line of reasoning in applied ethics. Continue reading →
Last Thursday Professor Neil Levy has defended his Parity Principle for analysing the ethics of cognitive enhancement at the St Cross Special Ethics Seminar. Such principle would oppose a common form of objection against enhancement which claims that there is a worrying asymmetry between enhancement and traditional means to human improvement. Conversely, Neil contends that the function is all that matters morally when comparing enhancement with traditional means and that comparing isofunctional modifications reveals that there are little unique problems with enhancement. The Parity Principle leads to a useful analysis of several proposed critiques of cognitive enhancement. Continue reading →
(Above image here) Consider the infamous Chinese dog market. Dogs are rounded up, sometimes beaten while still alive (ostensibly to improve the flavour of their meat), killed, and eaten.
Everyone I know thinks it's obscene, and that the suffering of the dogs cannot possibly be outweighed by the sensual satisfaction of the diners, the desirability of not interfering, colonially, with practices acceptable in another culture, or by any other consideration. It's just wrong.
'It's just wrong' is the observation that moral philosophers exist to denounce. They draw their salaries for interrogating this observation, exploding its naivety, and showing that the unexamined observation is the observation not worth making.
But what can the moral philosophers bring to the discussion about the Chinese dogs? Alone, and unaided by science, not much. The philosophy turns out to be either (a) reheated science or (b) a description of our intuitions, together with more or less bare assertions that those intuitions are either good or bad.  Continue reading →
This essay was a finalist in the Graduate Category of the 2nd Annual Oxford Uehiro Prize in Practical Ethics
Written by University of Oxford Student, Yutang Jin
In a family, parents can exert enormous influence on their children. Parents tend to implant in their children's mind, for good or ill, values and ideas which go on to guide their whole lives. This essay focuses on this relationship and discusses what justification we can have for parental influence over their children.
The dominant discourse in addressing the parent-child relationship is that of moral rights. I argue, however, that the liberal discourse of rights, sound as it may be, has lots of drawbacks that disqualify it from being a cogent account of family relationships. I then go on to craft a Confucian framework whereby to discuss how parents and children should behave to each other. My main argument is that parents' influence is justifiable insofar as parents comply with moral rules that regulate their relationship with children, and these rules are subject to public justification and rectification. Continue reading →
Professor Julian Savulescu further discusses this subject at The Conversation
Maria Sharapova has been caught taking the banned performance enhancing drug Mildonium (Mildronate). It was added to the ever growing list of banned substances by WADA in January 2016. She claims to have not read the information sent via email informing athletes of the change of rules and says that she had been taking the drug since 2006 for a magnesium deficiency, an irregular EKG, and her family's history of diabetes. Mildronate is marketed by the company as a performance enhancer (alongside other uses) and is one of Latvia's biggest medical exports, accounting for up to 0.7% of its total exports.
Should we feel sorry for her?
Every professional athlete nowadays knows:
Strict liability obtains – that is, they are responsible for everything they put into their bodies. Ignorance is no excuse.
If you are taking any potentially, even vaguely performance enhancing substance you have to watch the WADA banned list like a hawk. It is added to on a regular basis. Indeed, substances may not even be specifically named but fall under a generic category of effect, such as accelerating tissue healing.
If you are taking a banned substance for medical reasons, you need to get a therapeutic use exemption. These are very common: there were at least 550 in cycling from 2008-2014. For example, a cyclist with a diagnosis of asthma can take the beta stimulant, salbutamol. In 2011, 8% of baseballers had a diagnosis attention deficit disorder (and so are allowed to take ritalin, related to amphetamine). Of course, the distinction between health and disease is fuzzy, but that is another story. It is very possible that Sharapova would have been granted a therapeutic use exemption, if she had applied.
Sharapova is a professional. Even if her medical need for what is widely advertised as a performance enhancer is justified, she should have known how to handle the administrative burden around it. Strict liability obtains. She broke the rules and will face the consequences.
The more interesting question is: why was Mildonium placed on the banned list?
This essay was awarded second place in the Oxford Uehiro Prize in Practical Ethics graduate category.
Written by University of Oxford student, Benjamin Lange
1. INTRODUCTION
Consider
Important Decision: Imagine that you are about to finish your philosophy PhD and are faced with the following two choices: You can either accept a postdoctoral position at a prestigious university or you can take up a job that will enable you to positively impact the lives of other people who are very badly off. Suppose further that you would strongly prefer to become a philosopher. However, you are having second thoughts. It's also clear to you that you could spend your time and energy in a more beneficial way by helping others. And you recognise that you have strong moral reason to do so.
With this in mind, and standing at this important juncture in your life and career you now ask yourself:
"Given that there is some moral leeway, am I justified in pursing a philosophical (minimally helpful) career even though I could also choose a (more helpful) altruistic career?"
How would you answer? Continue reading →
This essay is a joint winner in the Undergraduate Category of the Oxford Uehiro Prize in Practical Ethics
Written by University of Oxford student, Thomas Sittler
"How should vegetarians actually live? A reply to Xavier Cohen."
Ethical vegetarians abstain from eating animal flesh because they care about the harm done to farmed animals. More precisely, they believe that farmed animals have lives so bad they are not worth living, so that it is better for them not to come into existence. Vegetarians reduce the demand for meat, so that farmers will breed fewer animals, preventing the existence of additional animals. If ethical vegetarians believed animals have lives that are unpleasant but still better than non-existence, they would focus on reducing harm to these animals without reducing their numbers, for instance by supporting humane slaughter or buying meat from free-range cows.
I will argue that if vegetarians were to apply this principle consistently, wild animal suffering would dominate their concerns, and may lead them to be stringent anti-environmentalists. Continue reading →