written by Andreas Kappes (@AnKappes), Anne-Marie Nußberger (@amnussberger ), Molly Crockett (@mollycrockett ) & Julian Savulescu  (@juliansavulescu)
Measles is making a comeback in Britain and Europe with numbers rising to record levels this year. Last year in Europe, measles killed 35 people, including young children . The re-emergence of measles can be traced to falling rates of vaccination and might make you want to re-think your summer plans. Crowded environments with low levels of hygiene, also known as summer festivals, are something to avoid if unsure about whether you have been properly vaccinated. And maybe re-think going for holidays to Romania, Italy and Greece, the countries with the highest rates of measles outbreaks this year.
But of course, even if you are not vaccinated, your chances of getting measles are low. And if you are infected, dying from measles is rare. The people that die during measles outbreaks are vulnerable babies that are too young to be vaccinated and unvaccinated people with compromised immune systems. And what are the chances that you infect one of these vulnerable people? Extremely low. Your intuition then might be that even if you are unsure about your vaccination status, the low odds don't seem to justify the effort to engage with the NHS or any other health care provider. Maximize your benefits, and others will surely be fine. Individually, this feels right, but for the communities and countries we live in, this is disastrous, slowly eroding herd immunity that protects the most vulnerable.
Written by Neil Levy
A number of philosophers and psychologists suggest that belief in free will – whether it is true or not – is important, because it promotes prosocial behavior. People who disbelieve in free will might become fatalists, holding that their choices make no difference to how events play out, because they're already determined (say). They might think that our lives lack value, in the absence of free will, and therefore that they do not deserve respect. There is, on most accounts of free will, a close link between free will and moral responsibility: if we lack free will, we're not morally responsible. This link provides a third path whereby lack of belief in free will might lead to antisocial behavior: because people believe that they do not deserve blame for acting badly, they might be less motivated to act well. Continue reading →
Written by Roger Crisp
Last week, at a seminar organized jointly by the Oxford Uehiro Centre and the Wellcome Centre for Ethics and Humanities, Prof. Irina Mikhalevich presented a fascinating preview of a paper ('Minds Without Spines: Toward a More Comprehensive Animal Ethics') which forms part of a project she has been working on with Prof. Russell Powell. Continue reading →

By Hazem Zohny
For those suspicious of sentiments like national pride, or who simply fail to feel emotionally engaged by a sporting team representing a bit of territory on the planet, the World Cup season can feel alienating. It is a global phenomenon that can be difficult to avoid, and you may rightly feel tired of being that person lecturing their friends and colleagues about how football is the true opium of the masses.
If so, you might as well breathe in the fumes with everyone and enjoy the ride. But given your deep-seated apathy about the World Cup, who should you support, and why? Fortunately, that moral theory Bernard Williams dismissed in 1973 – hoping "the day cannot be too far off in which we hear no more of it" – is here to help.
Utilitarianism is about the impartial maximization of happiness. With over 3 billion humans allowing a ball passed around on a screen to puppeteer their emotions over the next month, there is much happiness and misery to be experienced around the globe. A World Cup-apathetic utilitarian ought to support those teams that will likely maximize net happiness by winning.
How do we determine who those teams are?

By Charles Foster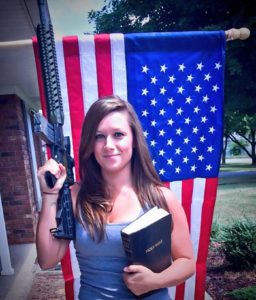 Image: Holly Fisher, a Conservative Christian blogger from West Virginia, posing with gun, Bible, and US flag:  from www.nydailynews.com
There was a near universal consensus that Bishop Michael Curry's sermon at the wedding of Prince Harry and Meghan Markle was magnificent.  'Frock Star', panted the Sun.  The Bishop 'stole the show…and is the 'new Pippa Middleton'' He left for the US, the Sun continued, 'leaving Britain still raving about his electrifying sermon.' The Bishop 'just stole the show', said Vox.com 'Prince Harry and Meghan were all but upstaged by the Episcopal priest's fiery sermon….You might say Curry just made the Anglican communion great again.'
'The Rev Michael Curry', tweeted Ed Miliband, 'could almost make me a believer, ' and Piers Morgan tweeted: 'Wow. Still reeling from Rev Curry. What a moment. What a man!' The BBC commentator Jeremy Vine said that the preacher was 'doing 50 in a 30 zone, and it's brilliant.' Continue reading →
By Jonathan Pugh
The number of individuals suffering with dementia is steadily increasing; as such, the moral issues raised by the neurodegenerative diseases that bring about the symptoms typifying dementia are of pressing practical concern. In this context, Richard Holton's topic for the first of his three 2018 Uehiro lectures (on the theme "Illness and the Social Self") is a timely one: What are the ethical implications of the progressive and pervasive loss of memory that is a central feature of dementia?
I shall be blogging a synopsis of each lecture in the series on the Practical Ethics blog – You can find a recording of the lecture here
By Hazem Zohny
In the first season of the Netflix show Jessica Jones, our traumatized, alcoholic protagonist is up against a particularly nasty villain: Kilgrave. He is a mind-controller and complete psychopath. A virus he emits compels people around him to do whatever he commands.
Early in the season, he makes a young woman, Hope, kill her parents in front of Jessica just to spite her. Jessica, who knows all too well what it's liked to be "Kilgraved," consoles Hope by repeatedly telling her, "It's not your fault."
And it surely isn't her fault. Once Kilgrave commanded Hope to kill, she could in no way have done otherwise. More than that, she was not in any meaningful sense the source or author of her murderous act, which was completely incongruous with her past behaviours and with her love for her parents.
By Roger Crisp
This is an exciting time for practical ethics in Oxford. The University has recently launched a new Masters in Practical Ethics, organized by the Oxford Uehiro Centre for Practical Ethics and the Department for Continuing Education. Applicants are currently being assessed for admission, and the course begins in earnest in October.
But what makes ethics – by which I mean philosophical ethics – 'practical' (or 'applied')? It's true that a good deal of philosophical work in ethics is at the 'meta-level', covering issues such as the truth-aptness of moral judgements or the metaphysics of moral properties. But isn't the rest of it, if it's not 'meta' and not merely clarificatory, all going to be practical, in some straightforward sense?
By Mackenzie Graham
Facebook CEO Mark Zuckerburg recently appeared before members of the United States Congress to address his company's involvement in the harvesting and improper distribution of approximately 87 million Facebook profiles —about 1 million of them British— to data collecting app Cambridge Analytica. In brief, Cambridge Analytica is a British political consulting firm, which uses online user data (like Facebook profiles), to construct profiles of subjects, which can then be used for what it calls 'behavioural micro-targeting'; advertisements tailored to the recipient based on their internet activity. In 2016, Cambridge Analytica was contracted by Donald Trump's presidential campaign, as well as the 'Leave EU' campaign prior to Britain's referendum to leave the European Union.