Today, Peter Singer's TED Talk on effective altruism went live. But what is effective altruism?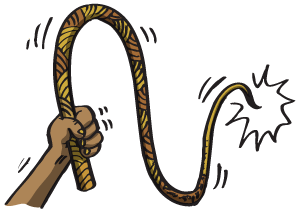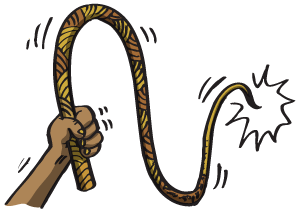 Studies have shown that regular physical activity has benefits for mental health: exercise can help people to recover from depression and anxiety disorders. However, not all people like exercise, and a mental disorder like depression can additionally decrease motivation for physical activity. So the disorder itself might inhibit behaviour that helps to overcome it.
We would assume that pressurising people is no solution here: several studies have shown that restricting freedom of choice or control increases stress in both humans and animals. However, new research tentatively indicates that controllability might play a smaller role than expected when it comes to exercise, and that even forced exercise might protect against depression and anxiety symptoms:
With apologies to speakers and attendees, the above lecture has had to be postponed to next term. A new announcement will be posted shortly with the new details. Please accept our apologies for any inconvenience. 
POSTPONED: Wellcome Lecture in Neuroethics 2013
Venue: Lecture Theatre, Philosophy Faculty, Radcliffe Humanities
Radcliffe Observatory Quarter, Woodstock Road, Oxford, OX2 6GG
ALL WELCOME
The Oxford Centre for Neuroethics & International Neuroethics Society are pleased to present a set of two Wellcome Lectures in Neuroethics for 2013:
Brain mechanisms of voluntary action: the implications for responsibility
Prof. Patrick Haggard
University College London
The irresponsible self: Self bias changes the way we see the world
Prof. Glyn Humphreys
Department of Experimental Psychology, Oxford University
Abstract: Humans show a bias to favour information related to themselves over information related to other people. How does this effect arise? Are self biases a stable trait of the individual? Do these biases change fundamental perceptual processes? I will review recent work from my laboratory showing that self-biases modulate basic perceptual processes; they are stable for an individual and are difficult to control; they reflect rapid tuning of brain circuits to enhance the saliency of self-related items. I discuss the implications of this work for understanding whether perceptual processes are informationally encapsulated, and whether perception changes as a function of social context.
Bio: Glyn Humphreys is Watts Professor and Head of the Department of Experimental Psychology at Oxford, having formerly been Professor of Psychology at both Birkbeck College and the University of Birmingham. His research interests cover a wide range of topics in visual cognition and his work uses a variety of techniques including neuropsychological case studies, fMRI, EEG and trans-cranial magnetic stimulation. He has been awarded the British Psychological Society's Spearman Medal, its President Award and its Cognitive Psychology Prize (twice). He is a Fellow of the Royal Society of Medicine, the American Psychological Association and the British Academy.
Recent scientific developments suggest that it may become possible to create viable human gametes from human stem cells. It has been suggested that this will lead to the development of a range of new fertility treatments as well as new strands of research. More speculatively, some have argued that it may
Allow the radical enhancement of human reproductive capabilities, for example, by allowing same-sex couples or post-menopausal women to have genetically-related offspring
Provide new means of creating 'designer babies', for example, by easing constraints on the number of embryos that can be produced in IVF.
In a feature article forthcoming in the Journal of Medical Ethics, Robert Sparrow discusses the possibility that stem cell technologies might be used to facilitate what he calls 'in vitro eugenics'; the deliberate and selective breeding of multiple generations of human embryos in vitro. The Editors of the Journal of Medical Ethics now invite submissions for a special issue addressing the ethical questions raised by Sparrow's paper and by stem cell-derived gametes more generally.
There is another case in the news where someone is making a legal bid to allow his doctors help him to die. These cases are always heartrending. It's a cliché that hard cases make bad law. But it's a cliché because it's true.
If we look at individual cases, there are often very strong grounds for considering that the compassionate response is to allow assisted suicide or euthanasia. But the difficulty is that  public policy and law must be designed to produce the best, the most just, the most compassionate outcome overall. This is why any legal or policy change must be made in response to a full consideration of all possible cases, and of wider effects upon society; there's no such thing as simply allowing assisted suicide in law – any such law would have of course to be very carefully constructed.
And any law or policy is always enacted within a particular context; any choice for a freedom allowed within law is made within a particular context.
When we turn to examine the most compelling individual cases, there are certain things which stand out. One of these is the surrounding context of the patient's request: often, full exploration of all medical options, a good relationship with a medical team, a loving family, years of careful thought. The request to die may be made carefully and for pressing reasons.
There is no doubt that there are serious conflicts surrounding this issue. If one were to summarise some of the main worries against making a change in law and policy to allow assisted suicide or euthanasia, these include concerns that some people will feel subtly pressurised to choose death over life. Arguments in favour of introducing new legislation quite rightly attempt to make provision to ensure that any choice of assisted suicide or euthanasia is freely chosen and autonomous.
But this then indicates that we need to do much more than consider legal changes. We need to ensure that any request to die is made in a social, psychological and economic context where there is equal value given to the choice to live. Here are some suggestions about what society needs to provide in order to provide a real choice for those suffering major illness or disability or nearing death.
·                State of the art palliative care, freely available to all. This therefore includes putting significant research funds into palliative care. Of course, this may not be a solution to all cases; but without such provision, the choice of euthanasia is surely to that extent made from a reduced list of options.
·                Careful consideration of the practice of medicine which often seems more focused on extending life without consideration of its quality. Many, although not all, requests for euthanasia arise because a patient's life has been extended through the use of technology and medical care without regard to outcome for that patient. These are very difficult issues, of course, but they need to be carefully addressed.
·                A sea-change in attitudes towards the elderly, the sick and the disabled in society would not go amiss. There is not space here to do more than indicate the issues here, but a quick glance at how our elderly are valued should suffice – social isolation, poverty, enforced lack of economic and social productivity are the norm for many of our elderly. They are often seen as a group presenting nothing but problems and burdens to society. The message that our elders are a burden must be reduced, changed, or reversed – without this, we cannot be sure that the way such a group is seen does not influence decisions to choose euthanasia. There have been changes for the better in our attitude to people with disabilities in recent years. Let's continue this and work to for changes in attitudes to the elderly, who have much to offer.    
·                Lastly, a persistent knot in my stomach tells me that it doesn't seem very sensible to introduce a law allowing assisted suicide or euthanasia whilst we are in the midst of a recession and whilst the funding of the NHS is in such a precarious position. Maybe we should take care of the funding of health and social care first. Just a thought.
How strongly wedded are people to their political preferences? The received wisdom amongst political journalists and pollsters is that most people can be counted on to vote for one major party or another, and only a relatively small percentage of people swing elections. It is these people – swinging voters, as they called in Australia – who decide elections. At very least, as an election approaches most have made up their mind and can't be persuaded to shift.
Suppose most people are committed to a major party, at least in the days preceding an election.  Is this a matter of policy agreement or of something more like identification or tribal allegiance? A recent paper casts some light on this question, and along the way suggests that people might be more open to shifting allegiances than we might have thought, at least if approached in the right way. Continue reading →
To what extent do self-interest and altruism conflict? In my latest Quartz article, I suggest that they conflict less than you might think.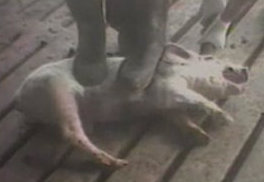 Covertly filming shocking animal abuse in the meat industry (and other industries involving animals) is a common tactic of animal welfare charities such as the Humane Society, Mercy for Animals, Animal Aid, and PETA. The footage is generally obtained by workers for the charities who gain employment at slaughterhouses, farms, laboratories and the like; and it has been instrumental in prosecuting abusers and applying pressure on meat producers to improve welfare standards, as the New York Times reported at the weekend.
The same article also reports a disturbing response to this practice by several US states:
They proposed or enacted bills that would make it illegal to covertly videotape livestock farms, or apply for a job at one without disclosing ties to animal rights groups. They have also drafted measures to require such videos to be given to the authorities almost immediately, which activists say would thwart any meaningful undercover investigation of large factory farms.
Those who flout this so-called 'ag-gag'  legislation may, among other things, be placed on a 'terrorist registry'.