General anaesthesia is widely used for surgery and diagnostic interventions, to ensure the patient is completely unconscious during these procedures. However, in a paper published in Anaesthesia (a journal of the Association of Anaesthetists) ethics and anaesthesia experts from the University of Oxford say that general anaesthesia should be more widely available for patients at the end of their lives.
Painkilling medications (analgesia) are commonly given to dying patients. But they may not be enough, leading to the use of continuous deep sedation (also known as "palliative" or "terminal" sedation).
"However, for some patients these common interventions are not enough. Other patients may express a clear desire to be completely unconscious as they die," explains co-author Professor Julian Savulescu, Uehiro Chair of Practical Ethics, University of Oxford, UK. "Some dying patients just want to sleep. Patients have a right to be unconscious if they are dying. We have the medical means to provide this and we should."
The authors make clear that their proposal is not about assisted dying, currently illegal in the UK. Instead, their focus is on options available to ensure that patients are comfortable at the end of their lives.
Put simply, some patients will want to be certain they are unconscious and unaware as their final moments arrive.
"The desire to be unconscious as a means of eliminating the experience of physical or mental suffering is understandable," says co-author Jaideep Pandit, Professor of Anaesthesia at Oxford University Hospitals NHS Foundation Trust, UK. "Unconsciousness through general anaesthesia offers the highest chance of making sure that the patient is unaware of going through an adverse process."
He adds that "although general anaesthesia in end-of-life care has been used and described in the UK since 1995, modern multidisciplinary guidelines will be needed before this can be offered more widely. Raising this issue now is important, especially in view of international trends showing increased use of general anaesthesia for dying patients."
Informed consent will, say the authors, be crucial in helping patients understand implications of general anaesthesia for end-of-life care, and the other options they have to manage their final days.
"It is vital that patients are informed of all the legal options available to them to relieve suffering at the end of life. That includes analgesia, sedation and, potentially now, anaesthesia," says co-author Professor Dominic Wilkinson, Director of Medical Ethics, Uehiro Centre for Practical Ethics at the University of Oxford, UK. "The risks and benefits of each should be explained. Patients should be free to choose the option, or combination of options, that best meet their values."
In a separate survey of the general public, published recently in the journal PLOS One, Professors Wilkinson and Savulescu found a high level of support for access to deep sedation in dying patients. Some 88% of those surveyed said they would like the option of a general anaesthetic if they were dying. About two thirds (64%) said they would personally choose to have an anaesthetic at the end of life.
Professor Wilkinson adds "members of the general public appear to value the option of deep sleep and complete relief from pain if they were dying. Our previous research indicates that the public believes that patients should be given this choice."
The authors counter any concerns that the use of general anaesthesia for end-of-life care could hasten death. Studies show no statistically significant difference in mean survival time between patients at the end of life who receive continuous deep sedation and those who do not. In several countries, propofol infusion as used for general anaesthesia has been continued for up to 14 days. "This stresses the point that the purpose of administering anaesthesia is not to hasten death but simply to achieve unconsciousness." explains co- author Antony Takla, Research Associate at the Uehiro Centre for Practical Ethics, University of Oxford.
The authors believe the UK medical community should prepare for increased requests for general anaesthesia for end-of-life care, based on current trends in Western Europe and Scandinavia.
They conclude: "we have described a potential role for general anaesthesia in end-of-life care. This has, in reality, been available to UK patients since the 1990s, but is not commonly discussed or provided. There is a strong ethical case for making this option more widely available. This does not imply that existing palliative care practice is deficient. Indeed, we might see that general anaesthesia in end-of-life care is requested by, or suitable for, very few patients."
"However, the number of patients involved should not alone determine whether this issue is regarded as ethically important. Even if complete unconsciousness is desired by only a few patients, there is a moral imperative for national anaesthesia, palliative care and nursing organisations to prepare for the possibility that general anaesthesia in end-of-life care may be requested by some patients, and to work collaboratively to develop clear protocols to address all of the practical, ethical and medicolegal issues concerned."
By Jonathan Pugh, Dominic Wilkinson and Julian Savulescu
This work was supported by the UKRI/ AHRC funded UK Ethics Accelerator project, grant number AH/V013947/1. The UK Ethics Accelerator project can be found at https://ukpandemicethics.org/
As mass vaccination continues to be rolled out, the UK is beginning to see encouraging signs that the number of COVID deaths is reducing, and that the vaccines may be reducing the transmission of coronavirus.
While this is very welcome news, a mass vaccination programme is unlikely to be enough to eliminate the virus, so we need to turn our thoughts towards the ethics of the long-term management of COVID-19.
One strategy would be to aim for the elimination of the virus within the UK. New Zealand successfully implemented an elimination strategy earlier in the pandemic and is now in a post-elimination stage.
An elimination strategy in the UK would require combining the mass vaccination programme with severe restrictions on international travel to stop new cases and variants of the virus being imported. However, the government has been reluctant to endorse an elimination strategy, given the importance of international trade to the UK economy.
One of the main alternatives to the elimination strategy is to treat coronavirus as endemic to the UK and to aim for long-term suppression of the virus to acceptable levels. But adopting a suppression strategy for the long term will require us to make a societal decision about the harms we are and are not willing to accept.
"
The legal decision this morning
, in the Family division of the High Court, provides important clarification. It is likely to be a relief to young people with gender dysphoria and their families.
In December
, the High Court found that young people under 16 with gender dysphoria were highly unlikely to be able to understand the complexities and uncertainties of puberty blocking treatment. That meant that they could not consent (on their own) to treatment. The court recommended that doctors and families go to court to seek permission to start treatment.
That decision has caused great uncertainty for a large number of vulnerable teenagers with gender dysphoria who had previously been started on treatment or were awaiting treatment. It wasn't clear whether they would be able to receive puberty blockers.
The decision today clarifies that parents of young people with gender dysphoria can consent to puberty blocking treatment on behalf of the young person. Where the parents, doctors and young person are all in agreement about this, there is no need to go to court.
This court decision reinforces a long established ethical approach to medical treatment in children and young people. The views of the child or young person should be sought. If the young person is sufficiently mature they may be able to consent on their own to the treatment in some cases. But where that isn't the case, parents are able to consent to treatment that would be in the young person's best interests (ie would be best overall for them). That ethical approach has long been adopted, in this country and others, for young people needing surgery or chemotherapy or other medical treatment. It applies to extremely important life and death decisions (for example about stopping life support). It also applies to puberty blockers.
Debate about the role of puberty blockers in young people and children is likely to continue. But this decision means that where doctors believe that it would be best for the young person to have this treatment, the young person wants the treatment and parents consent, the treatment can legally be provided."
Professor Dominic Wilkinson
Professor of Medical Ethics, University of Oxford
Consultant Neonatologist
No conflicts of interest
Written By: Julian Savulescu, University of Oxford; Dominic Wilkinson, University of Oxford;
Jonathan Pugh, University of Oxford, and Margie Danchin, Murdoch Children's Research Institute
This article is republished from The Conversation under a Creative Commons license. Read the original article.
For instance, reports of blood clots associated with the AstraZeneca vaccine led to several European countries suspending their vaccination programs recently, only to resume them once these clots were judged to be a coincidence. However, authorities couldn't rule out increased rates of a rare brain blood clot associated with low levels of blood platelets.
There are also problems with the Pfizer and Moderna vaccines. By early February 2021, among the over 20 million people vaccinated in the United States, there have been 20 reported cases of immune thrombocytopenia, a blood disorder featuring a reduced number of platelets in the blood. Experts suspect this is probably a rare vaccine side-effect but argue vaccination should continue.
So what happens with the next safety scare, for these or other vaccines? We argue it's best to give people the facts so they have the autonomy to make their own decisions. When governments pause vaccine rollouts while investigating apparent safety issues, this is paternalism, and can do more harm than good. Continue reading →
By Jonathan Pugh, Dominic Wilkinson, and Julian Savulescu
The authors are working on the UK Pandemic Ethics Accelerator project – @PandemicEthics_. This project was funded by the Arts and Humanities Research Council (AHRC) as part of UKRI's Covid-19 funding.  All authors are affiliated to the University of Oxford.
Summary Points
Preliminary Reviews suggest that the number of thrombotic events in individuals who have received the Astra Zeneca vaccine is not greater than the number we would normally expect in this population.
It is crucial that we closely monitor these adverse events. The regulation of new medical interventions always requires us to manage uncertainty.
A precautionary approach to managing this uncertainty may be important for ensuring continued confidence in vaccination.
Regulators must weigh the potential risk suggested by these reports of adverse events following vaccination against the harm that suspension of the vaccine could have.
The harm of suspending the use of the Astra Zeneca vaccine depends on how many preventable deaths we can expect by suspending its use.
Amongst other things, this will depend on (i) how many people will be delayed in receiving a vaccine as a result (ii) the mortality risk of the people who would be prevented from receiving a vaccine, (iii) the prevalence of the virus at the time of the suspension, and (iv) the number of people who have received one dose of the Astra Zeneca vaccine, but not a second.
Written by Dominic Wilkinson and Jonathan Pugh
This article is republished from The Conversation under a Creative Commons license. Read the original article.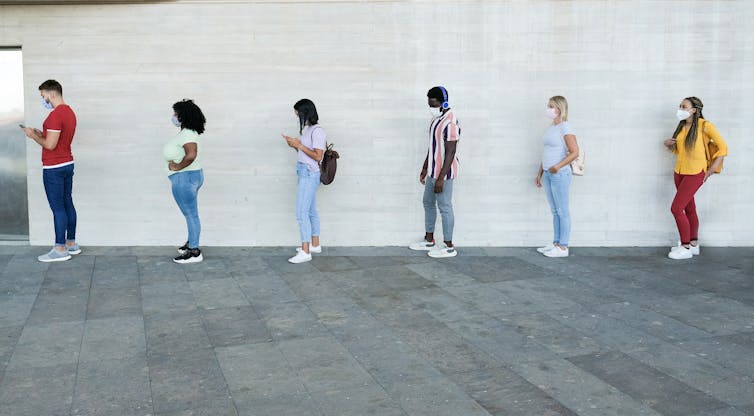 In the UK, an Oxford city councillor has been suspended after mentioning on social media that she had received a COVID vaccination from a private doctor. Meanwhile, media reports suggest that two Spanish princesses, who did not yet qualify for vaccination in Spain were vaccinated while visiting their father in the United Arab Emirates. They are among a number of ultra-wealthy people getting vaccinated in that country.
There have also been reports of people accessing vaccines early in the UK, despite not being in any of the groups prioritised for vaccination at the time.
So how concerned should we be about these cases? Continue reading →
By Dominic Wilkinson and Jonathan Pugh.
This is a crosspost from the Journal of Medical Ethics Blog.
This is an output of the UKRI Pandemic Ethics Accelerator project.
Last April, in the first wave of the COVID-19 pandemic, a number of academics, lawyers, doctors and ethicists wrote publicly about the need for national ethical guidance relating to resource allocation (e.g., see here, here, here). At the time there was concern that there would be insufficient intensive care beds to meet the needs of critically ill patients, and many thought that there needed to be clear guidance to doctors to tell them what to do if that occurred.
While a number of professional groups produced guidelines (for example, the British Medical Association, Royal College of Physicians, Intensive Care Society), no national guidance was ever produced. (A draft guideline was developed but rejected in early April 2020).
Almost 12 months and two pandemic waves later, in a legal ruling last week, Justice Swift refused the application of a number of COVID-affected families who had sought a judicial review on the absence of national guidelines. The ruling is not yet publicly available, but it appears that there were three legal arguments: that there was a statutory obligation to have contingency plans in case demand exceeded capacity, that rationing in the absence of national guidance would violate Article 8 of the Human Rights Act, and that it was "irrational" not to have a national guideline. Swift J apparently rejected all three of these claims.
We will focus here on the third of these – the most ethical of the arguments.
"iii) Rationality – it is irrational not to have a national guideline."
By Jonathan Pugh, Dominic Wilkinson and Julian Savulescu.
This is a crosspost from the Journal of Medical Ethics Blog.
This is an output of the UKRI Pandemic Ethics Accelerator project.
A group of citizen scientists has launched a non-profit, non-commercial organisation named 'RaDVaC', which aims to rapidly develop, produce, and self-administer an intranasally delivered COVID-19 vaccine. As an open source project, a white paper detailing RaDVaC's vaccine rationale, design, materials, protocols, and testing is freely available online. This information can be used by others to manufacture and self-administer their own vaccines, using commercially available materials and equipment.
Self-experimentation in science is not new; indeed, the initial development of some vaccines depended on self-experimentation. Historically, self-experimentation has led to valuable discoveries. Barry Marshall famously shared the Nobel Prize in 2005 for his work on the role of the bacterium Helicobacter pylori, and its role in gastritis –this research involved a self-experiment in 1984 that involved Marshall drinking a prepared mixture containing the bacteria, causing him to develop acute gastritis. This research, which shocked his colleagues at the time, eventually led to a fundamental change in the understanding of gastric ulcers, and they are now routinely treated with antibiotics. Today, self-experimentation is having something of a renaissance in the so-called bio-hacking community. But is self-experimentation to develop and test vaccinations ethical in the present pandemic? In this post we outline two arguments that might be invoked to defend such self-experimentation, and suggest that they are each subject to significant limitations. Continue reading →
Written by:
Jonathan Pugh
Dominic Wilkinson
Julian Savulescu
This is an output of the UKRI Pandemic Ethics Accelerator project – it develops an earlier assessment of the English hotel quarantine policy, published by The Conversation)
The UK has announced that from 15th Feb, British and Irish nationals and others with residency rights travelling to England from 'red list' countries will have to quarantine in a government-sanctioned hotel for 10 days, at a personal cost of £1,750. Accommodation must be booked in advance, and individuals will be required to undergo two tests over the course of the quarantine period.
Failure to comply will carry strict penalties. Failing to quarantine in a designated hotel carries a fine of up to £10,000, and those who lie about visiting a red list country are liable to a 10-year prison sentence.