Written by Dominic Wilkinson, Alberto Giubilini, and Julian Savulescu
The UK government recently announced a dramatic U-turn on the COVID vaccine mandate for healthcare workers, originally scheduled to take effect on April 1 2022. Health or social care staff will no longer need to provide proof of vaccination to stay employed. The reason, as health secretary Sajid Javid made clear, is that "it is no longer proportionate".
There are several reasons why it was the right decision at this point to scrap the mandate. Most notably, omicron causes less severe disease than other coronavirus variants; many healthcare workers have already had the virus (potentially giving them immunity equivalent to the vaccine); vaccines are not as effective at preventing re-infection and transmission of omicron; and less restrictive alternatives are available (such as personal protective equipment and lateral flow testing of staff). Continue reading →
Written by Dominic Wilkinson, Jonathan Pugh and Julian Savulescu
Time is running out for National Health Service staff in England who have not had a COVID vaccine. Doctors and nurses have until Thursday, February 3, to have their first jab. If they don't, they will not be fully immunised by the beginning of April and could be dismissed.
But there are reports this week that the UK government is debating whether to postpone the COVID vaccine mandate for healthcare staff. Would that be the right thing to do?
Vaccine requirements are controversial and have led to worldwide protests. Those in favour have argued that it is necessary and proportionate to protect vulnerable patients by making vaccination a condition of employment for healthcare staff. But critics have argued that vaccine mandates amount to a violation of human rights. Continue reading →
Dominic Wilkinson, University of Oxford
The recent world-first heart transplant from a genetically modified pig to a human generated both headlines and ethical questions.
Many of those questions related to the ethics of xenotransplantation. This is the technical term for organ transplants between species. There has been research into this for more than a century, but recent scientific developments involving genetic modifications of animals to stop the organ being rejected appear to make this much more feasible.
Typical questions about xenotransplantation relate to the risks (for example, of transmitting infection), treatment of the animals, and the ethics of genetic modification of animals for this purpose. Continue reading →
Written by Julian Savulescu, Dominic Wilkinson, and Jonathan Pugh
As coronavirus infections surge across Europe, and with the threat of the omicron variant looming, countries are imposing increasingly stringent pandemic controls.
In Austria, citizens will be subject to a vaccine mandate in February. In Greece, meanwhile, a vaccine mandate will apply to those 60 and over, starting in mid-January.
Both mandates allow medical exemptions, and the Greek mandate allows exemptions for those who have recently recovered from COVID.
Other countries, including Germany, may soon follow suit, and the European Commission has raised the need to discuss an EU vaccine mandate. In contrast, the UK health secretary, Sajid Javid, has been clear that the UK will not consider a general mandatory vaccination policy. Continue reading →
Written by: Jonathan Pugh, Dominic Wilkinson, and Julian Savulescu
Some countries already have vaccine passport schemes to travel or enter certain public spaces. The passports treat those who have had vaccines – or have evidence of recent infection – differently from those who have not had a vaccine. But the proposed selective lockdowns would radically increase the scope of restrictions for the unvaccinated.
Lockdowns can be ethically justified where they are necessary and proportionate to achieve an important public health benefit, even though they restrict individual freedoms. Whether selective lockdowns are justified, though, depends on what they are intended to achieve. Continue reading →
by Dominic Wilkinson, Jonathan Pugh, Julian Savulescu
Yesterday, the health secretary, Sajid Javid announced that COVID vaccines would become mandatory for frontline NHS staff from April.
Meanwhile, from tomorrow care home workers in the UK will not be able to work if they don't have a vaccine certificate and are not medically exempt. This vaccine mandate has been controversial, with providers raising concerns that as many 70'000 employees could leave the sector putting beds and care at risk. However, its advocates have argued that it is a proportionate public health measure due to the need to protect vulnerable care home residents.
Proportionality is one key ethical criterion in public health ethics; public health interventions are only permissible if their benefits outweigh their costs. However, another key ethical criterion is necessity; public health interventions are only permissible if they are necessary for achieving a certain benefit.
One striking feature of the current UK care home and NHS staff mandate is that it does not allow an exemption for those who have proof of natural immunity.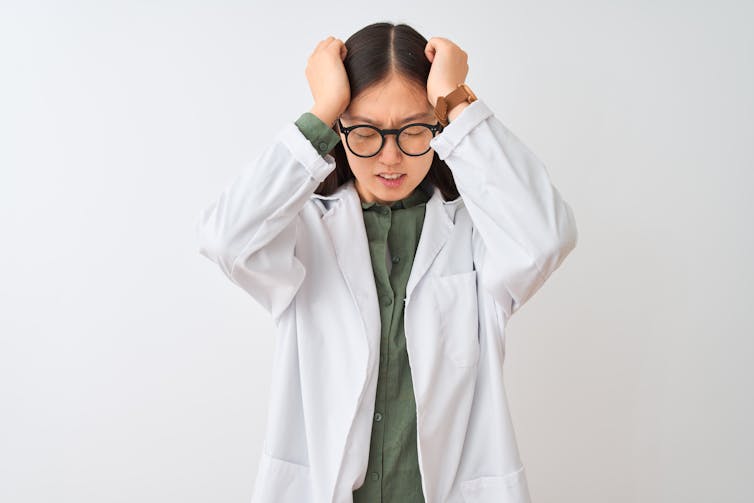 Trish Greenhalgh, University of Oxford and Dominic Wilkinson, University of Oxford
At the start of the pandemic, there was a striking sense of shared resolve and solidarity. Facing a public health crisis greater than any in living memory, people were largely united in their support of difficult measures to protect the vulnerable, safeguard the health system and sustain key workers.
There were, of course, differences of opinion. For example, some disagreed about the severity of the threat posed by COVID, about the wisdom of different national approaches to lockdown, about the timing of restrictions, and the effectiveness face masks.
More recently, there has also been disagreement on how vaccines should be distributed, whether vaccine passports are a good idea, and whether vaccination should be mandatory for certain occupations)
Throughout the pandemic, scientists attempting to explain their findings have had to deal with unprecedented levels of dissent, anger and abuse from the lay public and occasionally from other scientists.
Since the government lifted COVID restrictions on July 19, views on how best to handle the pandemic have become more polarised than ever, broadly splitting into two camps: the "open up" camp and the "not yet" camp. Continue reading →
Dominic Wilkinson, University of Oxford; Jonathan Pugh, University of Oxford, and Julian Savulescu, University of Oxford
Education Secretary Gavin Williamson has announced the end of school "bubbles" in England from July 19, following the news that 375,000 children did not attend school for COVID-related reasons in June.
Under the current system, if a schoolchild becomes infected with the coronavirus, pupils who have been in close contact with them have to self-isolate for ten days. In some cases, whole year groups may have to self-isolate.
Such mass self-isolation is hugely disruptive. Yet despite the clamour to switch to other protective measures, such as rapid testing of pupils who have been in close contact with an infected pupil, the public service union Unison has supported self-isolation as "one of the proven ways to keep cases under control". Continue reading →
By Dominic Wilkinson, 24th June 2021
cross post from the Open Justice Court of Protection Project
On 11th June 2021,  I was a public observer (via MS Teams) of a case in the Court of Protection: Case No. 1375980T Re GU (also blogged about by Jenny Kitzinger here).
The case was (though I did not know it beforehand) related closely to issues that I have written about over a number of years (for example here, here, here ). It was an urgent hearing before Mr Justice Hayden concerning clinically-assisted nutrition and hydration (CANH) for a 70 year old man, GU, who has been in a prolonged disorder of consciousness for seven years.
I have read the judgments from many similar cases in the UK, from the first ever case concerning a feeding tube for a vegetative patient heard in (what is now) the Supreme Court in 1992 (the case of  Tony Bland, injured in the Hillsborough football stadium disaster), through to the most recent Supreme Court case of Re. Y, at which the court ruled that it is not mandatory to bring cases concerning CANH-withdrawal to court unless there is disagreement about best interests, or the decision is finely balanced (report here). I'm also familiar with the judgments in other jurisdictions (e.g. Schiavo in the USA,  Lambert in France) and have been involved in deliberation in clinical ethics committees about cases with similar features.
Yet, this was my first time hearing open deliberations in the Court of Protection. It was a fascinating and thought-provoking experience. Continue reading →