Written by Rebecca Brown
Last month, one of the largest music streaming services in the world, Spotify, announced a new 'hate content and hateful conduct' policy. In it, they state that "We believe in openness, diversity, tolerance and respect, and we want to promote those values through music and the creative arts." They condemn hate content that "expressly and principally promotes, advocates, or incites hatred or violence against a group or individual based on characteristics, including, race, religion, gender identity, sex, ethnicity, nationality, sexual orientation, veteran status, or disability." Content that is found to fulfil these criteria may be removed from the service, or may cease to be promoted, for example, through playlists and advertisements. Spotify further describe how they will approach "hateful conduct" by artists: 
We don't censor content because of an artist's or creator's behavior, but we want our editorial decisions – what we choose to program – to reflect our values. When an artist or creator does something that is especially harmful or hateful (for example, violence against children and sexual violence), it may affect the ways we work with or support that artist or creator.
An immediate consequence of this policy was the removal from featured playlists of R. Kelly and XXXTentacion, two American R&B artists. Whilst the 20 year old XXXTentacion has had moderate success in the US, R. Kelly is one of the biggest R&B artists in the world. As a result, the decision not to playlist R. Kelly attracted significant attention, including accusations of censorship and racism. Subsequently, Spotify backtracked on their decision, rescinding the section of their policy on hateful conduct and announcing regret for the "vague" language of the policy which "left too many elements open to interpretation." Consequently, XXXTentacion's music has reappeared on playlists such as Rap Caviar, although R. Kelly has not (yet) been reinstated. The controversy surrounding R. Kelly and Spotify raises questions about the extent to which commercial organisations, such as music streaming services, should make clear moral expressions. 
Continue reading →
By Brian D. Earp (@briandavidearp)
Introduction
Science and medicine have done a lot for the world. Diseases have been eradicated, rockets have been sent to the moon, and convincing, causal explanations have been given for a whole range of formerly inscrutable phenomena. Notwithstanding recent concerns about sloppy research, small sample sizes, and challenges in replicating major findings—concerns I share and which I have written about at length — I still believe that the scientific method is the best available tool for getting at empirical truth. Or to put it a slightly different way (if I may paraphrase Winston Churchill's famous remark about democracy): it is perhaps the worst tool, except for all the rest.
Scientists are people too
In other words, science is flawed. And scientists are people too. While it is true that most scientists — at least the ones I know and work with — are hell-bent on getting things right, they are not therefore immune from human foibles. If they want to keep their jobs, at least, they must contend with a perverse "publish or perish" incentive structure that tends to reward flashy findings and high-volume "productivity" over painstaking, reliable research. On top of that, they have reputations to defend, egos to protect, and grants to pursue. They get tired. They get overwhelmed. They don't always check their references, or even read what they cite. They have cognitive and emotional limitations, not to mention biases, like everyone else.
At the same time, as the psychologist Gary Marcus has recently put it, "it is facile to dismiss science itself. The most careful scientists, and the best science journalists, realize that all science is provisional. There will always be things that we haven't figured out yet, and even some that we get wrong." But science is not just about conclusions, he argues, which are occasionally (or even frequently) incorrect. Instead, "It's about a methodology for investigation, which includes, at its core, a relentless drive towards questioning that which came before." You can both "love science," he concludes, "and question it."
I agree with Marcus. In fact, I agree with him so much that I would like to go a step further: if you love science, you had better question it, and question it well, so it can live up to its potential.
And it is with that in mind that I bring up the subject of bullshit.
Over the past couple of months, the practice of ad blocking has received heightened ethical scrutiny. (1,2,3,4)
If you're unfamiliar with the term, "ad blocking" refers to software—usually web browser plug-ins, but increasingly mobile apps—that stop most ads from appearing when you use websites or apps that would otherwise show them.
Arguments against ad blocking tend to focus on the potential economic harms. Because advertising is the dominant business model on the internet, if everyone used ad-blocking software then wouldn't it all collapse? If you don't see (or, in some cases, click on) ads, aren't you getting the services you currently think of as "free"—actually for free? By using ad-blocking, aren't you violating an agreement you have with online service providers to let them show you ads in exchange for their services? Isn't ad blocking, as the industry magazine AdAge has called it, "robbery, plain and simple"? Continue reading →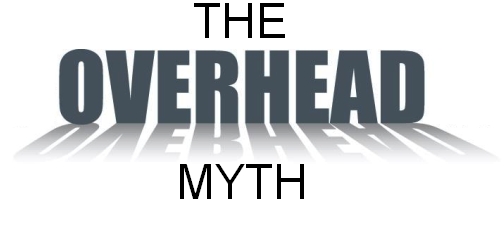 By Lucius Caviola & Nadira Faulmüller
Imagine a car company advertising as follows: "90c of any dollar you pay for your car goes directly to building cars. Only 10% of our expenses go into planning, designing, and advertising them." Such a campaign strategy would seem patently bizarre; when buying a product few of us are interested in how much went into administration, all we care about is what we get for our money. Overhead ratio (the proportion of money going into administration) is irrelevant; only cost-effectiveness matters.
This common sense approach to purchasing goods or services does not seem to translate into the non-profit sector, however. Consider the following advertisement by the organisation CARE:  "More than 90 percent of our expended resources – among the highest of all philanthropic organisations – support our poverty-fighting projects around the world. Less than 10 percent of expended resources go toward administrative and fundraising costs." Continue reading →

Follow Brian on Twitter by clicking here.
Twitter, paywalls, and access to scholarship — are license agreements too restrictive? 
I think I may have done something unethical today. But I'm not quite sure, dear reader, so I'm enlisting your energy to help me think things through. Here's the short story:
Someone posted a link to an interesting-looking article by Caroline Williams at New Scientist — on the "myth" that we should live and eat like cavemen in order to match our lifestyle to that of our evolutionary ancestors, and thereby maximize health. Now, I assume that when you click on the link I just gave you (unless you're a New Scientist subscriber), you get a short little blurb from the beginning of the article and then–of course–it dissolves into an ellipsis as soon as things start to get interesting:
Our bodies didn't evolve for lying on a sofa watching TV and eating chips and ice cream. They evolved for running around hunting game and gathering fruit and vegetables. So, the myth goes, we'd all be a lot healthier if we lived and ate more like our ancestors. This "evolutionary discordance hypothesis" was first put forward in 1985 by medic S. Boyd Eaton and anthropologist Melvin Konner …
Holy crap! The "evolutionary discordance hypothesis" is a myth? I hope not, because I've been using some similar ideas in a lot of my arguments about neuroenhancement recently. So I thought I should really plunge forward and read the rest of the article. Unfortunately, I don't have a subscription to New Scientist, and when I logged into my Oxford VPN-thingy, I discovered that Oxford doesn't have access either. Weird. What was I to do?
Since I typically have at least one eye glued to my Twitter account, it occurred to me that I could send a quick tweet around to check if anyone had the PDF and would be willing to send it to me in an email. The majority of my "followers" are fellow academics, and I've seen this strategy play out before — usually when someone's institutional log-in isn't working, or when a key article is behind a pay-wall at one of those big "bundling" publishers that everyone seems to hold in such low regard. Another tack would be to dash off an email to a couple of colleagues of mine, and I could "CC" the five or six others who seem likeliest to be New Scientist subscribers. In any case, I went for the tweet.
Sure enough, an hour or so later, a chemist friend of mine sent me a message to "check my email" and there was the PDF of the "caveman" article, just waiting to be devoured. I read it. It turns out that the "evolutionary discordance hypothesis" is basically safe and sound, although it may need some tweaking and updates. Phew. On to other things.
But then something interesting happened! Whoever it is that manages the New Scientist Twitter account suddenly shows up in my Twitter feed with a couple of carefully-worded replies to my earlier PDF-seeking hail-mary: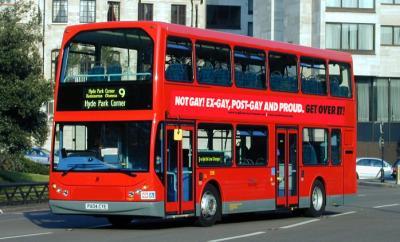 Various news sources—including The Huffington Post, Gay Star News, and the London Evening Standard—are reporting a High Court case in which a campaigner for gay conversion therapy is fighting Transport for London (TfL) over a ban on its bus adverts that suggest that homosexuality can be 'cured'.
Dr Mike Davidson is head of Core Issues Trust which, according to its website, is 'a non-profit Christian ministry supporting men and women with homosexual issues who voluntarily seek change in sexual preference and expression'. Davidson, who is married with children, insists that his own gay feelings were removed by therapy. He told The Huffington Post that he had homosexual feelings 'from the moment [he] opened [his] eyes'. Even so, he believes that 'gay' is a 'late twentieth century political construction' that people can reject. His adverts read, 'Not gay! Ex-gay, post-gay and proud. Get over it!'—a response to similar posters by lesbian, gay and bisexual charity Stonewall which read, 'Some people are gay. Get over it!' Davidson's adverts have been deemed 'offensive to gays' by London Mayor Boris Johnson, who is also head of TfL. Continue reading →
In ethical discussions, we are often quick to lambast advertisements for the way in which they can subvert the consumer's autonomy. It is certainly true, as other posts on this blog record, that  some advertisements aim to intentionally deceive consumers, and to manipulate their preferences in a manner which can serve to undermine their autonomy. Continue reading →