The idea of using a meat tax to improve human health and protect the environment has been getting a fair amount of attention from prominent scientists in the media. Professor Mike Rayner was quoted last year as saying, "I would like to see a tax on red meat and meat products. We need incentives to cut down on meat and dairy consumption." Marco Springmann told the Guardian, "Current levels of meat consumption are not healthy or sustainable. The costs associated with each of those impacts could approach the trillions in the future. Taxing meat could be a first and important step." And Joseph Poore suggested that taxing meat will likely be necessary to avoid serious environmental problems.
Taxing food products to promote human health is controversial. It has been suggested that introducing taxes to limit particular food consumption behaviors is a troubling shift towards a "nanny state," involves paternalistically imposing "alien values" on people, and interferes with the free market by picking and choosing winners and losers among different products. A decision to impose a dedicated tax specifically targeting meat would need to adequately address all of these concerns.
For this post, however, I'm going to sidestep those difficult questions to instead focus on a question with an answer that seems to me a bit more straightforward: given that the UK already has a Value Added Tax that applies to some food products but not others, should it continue to exclude meat products from this tax?
The UK's Value Added Tax, or VAT, is meant to target luxury goods while withholding taxes on "staples." But the definition of what exactly counts as a luxury is a bit mysterious. Currently beef, lamb, pork, chicken are all excluded from the VAT. But shelled nuts are considered to be "luxury goods" and have the 20% VAT imposed on them.
Treating meat products as "staples" likely hearkens back to earlier beliefs that meat was a required part of a healthy diet and an essential source of protein. However, it is now well-established that diets with low amounts of meat, and indeed fully vegan and vegetarian diets, can be perfectly healthy and can meet nutritional needs for the overwhelming majority of the population. Moreover, this can all be done relatively inexpensively…low meat diets do not require buying the latest luxury food items at Whole Foods.
But the problem is not just that there are equally nutritious alternatives to meat…it's that meat is demonstrably worse than many of them on a number of measures. The World Health Organization currently classifies processed meat as "carcinogenic" and red meat as "probably carcinogenic." Moreover, high levels of meat consumption are bad for the environment in a number of ways. Rearing livestock is the biggest contributor to methane (a greenhouse gas that plays a significant role in climate change), utilizes a large portion of the world's fresh water supply, and is a significant source of nitrogen, phosphorus and other pollutants (for a useful and accessible summary, see: http://science.sciencemag.org/content/361/6399/eaam5324 ).
These are reasons that directly affect humans, and so could be thought of as both self-interested concerns and altruistic concerns (since future generations will be more seriously influenced by our impact on the environment). But one of the most common arguments against meat consumption is focused on animal welfare. Many vegetarians and vegans believe it is always wrong to kill an animal for human consumption, provided that alternatives are available. Practicing vegetarians currently make up a relatively small proportion of the population, but presumably a majority of people would agree that animals shouldn't be mistreated or made to suffer needlessly, and there's good reason to think that many of the animal welfare problems in current animal rearing practices (from housing to transporting to slaughtering animals) are a result of the pressure to produce vast amounts of meat as cheaply as possible to meet the current high demand for meat. So there are also strong reasons related to animal welfare to dramatically reduce per capita meat consumption that are based on values presumably shared by most people, though this is rarely directly mentioned in public policy discussions about taxing food.
Given all of the above, it seems as though there are strong reasons to include meat products in the VAT. But what about the objections mentioned above? The problem with these objections in the present context is that they seem as though they already apply to the current system. The current VAT system already favors certain foods over others and incentivizes goods according to particular values. In fact, the current system arguably provides perverse incentives that encourage people to choose at least some products, such as meat, that are less healthy, worse for the environment, and worse for animal welfare than other products that are taxed.
In other words, given that we already have a VAT tax that incentivizes some food products over others, it seems clear that meat products (and particularly red meat and processed meat) should be included. These products should no longer be regarded as necessary "staples" in healthy diets, and continuing to do so could have devastating consequences for the planet.
By Charles Foster
Some odd alliances are being forged in this strange new world,
I well remember, a few years ago, the open hostility shown by dreadlocked, shamanic, eco-warriors towards the Abrahamic monotheisms. They'd spit when they passed a church.
The rhetoric of their distaste was predictable. The very notion of a creed was anathema to a free spirit. 'No one's going to tell me what to think', said one (we'll call him Jack), the marks on his wrists still visible from where he'd been chained to a road-builder's bulldozer. And the content of the creeds, and the promulgators-in-chief, didn't help. 'I'm certainly taking no lessons', Jack went on, 'from some patriarchal sky-god represented by a paedophilic priest.'
But it's changed. Jack still heaves bricks through bank windows (he says), and still copulates inside stone circles, but now he's mightily impressed with Jesus, has a Greek Orthodox icon of the resurrection next to his bong, and pictures of Richard Dawkins and Sam Harris on his dartboard. He's not alone. He's part of a widespread movement that is reclaiming and recruiting the intrinsic radicalism of Judaism, Christianity, and Islam in the fight against Neo-Liberalism and the destruction of the planet. Continue reading →
Written by Stephen Rainey
It is often claimed, especially in heated Twitter debates, that one or other participant is entitled to their opinion. Sometimes, if someone encounters a challenge to their picture of the world, they will retort that they are entitled to their opinion. Or, maybe in an attempt to avoid confrontation, disagreement is sometimes brushed over by stating that whatever else may be going on, everyone is entitled to their opinion. This use of the phrase is highlighted in a recent piece in The Conversation. There, Patrick Stokes writes,
The problem with "I'm entitled to my opinion" is that, all too often, it's used to shelter beliefs that should have been abandoned. It becomes shorthand for "I can say or think whatever I like" – and by extension, continuing to argue is somehow disrespectful.
I think this is right, and a problem well identified. Nevertheless, it's not like no one, ever, is entitled to an opinion. So when are you, am I, are we, entitled to our opinion? What does it take to be entitled to an opinion?
Written by Stephen Rainey, and Jason Walsh
Rhetoric about free speech as under attack is an enduring point of discussion across the media. It appears on the political agenda, in various degrees of concreteness and abstraction. By some definitions, free speech amounts to an unrestrained liberty to say whatever one pleases. On others, it's carefully framed to exclude types of speech centrally intended to cause harm.
At the same time, more than ever the physical environment is a focus of both public and political attention. Following the BBC's 'Blue Planet Two' documentary series, for instance, a huge impetus gathered around the risk of micro-plastics to our water supply, and, indeed, how plastics in general damage the environment. As with many such issues people have been happy to act. Following, belatedly, Ireland's example, plastic bag use has plummeted in the UK, helped along by the introduction of a tax.
There are always those few who just don't care but, when it comes to our shared natural spaces, we're generally pretty good at reacting. Be it taxing plastic bags, switching to paper straws, or supporting pedestrianisation of polluted areas, there is the chance for open conversations about the spaces we must share. Environmental awareness and anti-pollution attitudes are as close to shared politics as we might get, at least in terms of what's at stake. Can the same be said for the informational environment that we share? Continue reading →

(Image: tctmd.com)
There is a dizzying circularity in much medical law. Judges make legal decisions based on the judgments of rightly directed clinicians, and rightly directed clinicians make their judgments based on what they think the judges expect of them. This is intellectually unfortunate. It can also be dangerous.
There are two causes: Judges' reluctance to interfere with the decisions of clinicians, and doctors' fear of falling foul of the law.
In some ways judicial deference to the judgment of professionals in a discipline very different from their own is appropriate. Judges cannot be doctors. The deference is best illustrated by the famous and ubiquitous Bolam test, which is the touchstone for liability in professional negligence cases.1 A doctor will not be negligent if their action or inaction would be endorsed by a responsible body of professional opinion in the relevant specialty.
In the realm of civil litigation for alleged negligence this deference is justified. The problem arises when the deference is exported to legal arenas where it should have no place. The classic example relates to determinations of the 'best interests' of incapacitous patients. Something done in relation to an incapacitous patient will only be lawful if it is in that patient's best interests. Continue reading →

Written by Doug McConnell
The 2018 edition of the football world cup has brought with it a renewed bout of hand wringing over 'simulation', e.g. players falling, diving, and tumbling under imaginary fouls, rolling around in mock pain, or clasping their faces pretending to have been hit. Stuart James writes in the Guardian that "play-acting has been commonplace at this World Cup. It's become a cancer in the game, not just a stain on it, and Fifa needs to find a cure." But what exactly is wrong with this behaviour? Why is the rise of this behaviour 'a cancer in the game'? Continue reading →
written by Andreas Kappes (@AnKappes), Anne-Marie Nußberger (@amnussberger ), Molly Crockett (@mollycrockett ) & Julian Savulescu  (@juliansavulescu)
Measles is making a comeback in Britain and Europe with numbers rising to record levels this year. Last year in Europe, measles killed 35 people, including young children . The re-emergence of measles can be traced to falling rates of vaccination and might make you want to re-think your summer plans. Crowded environments with low levels of hygiene, also known as summer festivals, are something to avoid if unsure about whether you have been properly vaccinated. And maybe re-think going for holidays to Romania, Italy and Greece, the countries with the highest rates of measles outbreaks this year.
But of course, even if you are not vaccinated, your chances of getting measles are low. And if you are infected, dying from measles is rare. The people that die during measles outbreaks are vulnerable babies that are too young to be vaccinated and unvaccinated people with compromised immune systems. And what are the chances that you infect one of these vulnerable people? Extremely low. Your intuition then might be that even if you are unsure about your vaccination status, the low odds don't seem to justify the effort to engage with the NHS or any other health care provider. Maximize your benefits, and others will surely be fine. Individually, this feels right, but for the communities and countries we live in, this is disastrous, slowly eroding herd immunity that protects the most vulnerable.
Written by Stephen Rainey
What happens after we die? This might be taken as an eschatological question, seeking some explanation or reassurance around the destiny of an immortal soul or some such vital element of our very being. But there is another sense that has at least as much importance. What should we do with dead bodies?
According to a Yougov survey from 2016, a majority of UK residents prefer cremation over burial, with their ashes scattered in some meaningful place. This could be good news, given the apparent dwindling of burial space globally. In the face of this sort of constraint, the re-use of graves becomes necessary, which can cause distress to the families of even the long dead.
Less commonly, dead bodies can be donated to medical science and put to use for purposes of research and medical training. Research suggests the rate is low owing to 'non-cognitive factors' such as 'the desire to maintain bodily integrity, worries that signing a donor card might 'jinx' a person, and medical mistrust.'
Maybe we should think again about how we treat dead bodies. There could come a time when cremation and burial might be considered a waste of resources, given the uses to which cadavers can be put. One body can be used to train many surgeons in complex procedures by being pared into relevant sections – individual limbs, organ systems, brains. Nevertheless, whilst a corpse is indeed a valuable object, it was also previously a subject. The nature of bodies as post-persons does seem to deserve some special consideration. If we can account for this, we might be in a position to recommend very generally why we ought to respect the bodies of the dead. Continue reading →
By Jonathan Pugh
The below is a slightly extended version of my two 5min presentations at the European Youth Event 2018, at the European Parliament in Strasbourg. I was asked to present on the following questions:
What are the ethical issues surrounding gene-editing, particularly with respect to eradicating mosquitoes?
Should the EU legislate on gene-editing mosquitoes?

By Charles Foster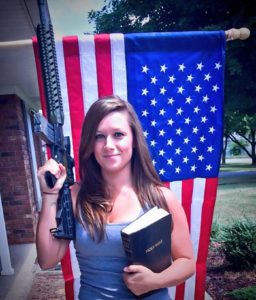 Image: Holly Fisher, a Conservative Christian blogger from West Virginia, posing with gun, Bible, and US flag:  from www.nydailynews.com
There was a near universal consensus that Bishop Michael Curry's sermon at the wedding of Prince Harry and Meghan Markle was magnificent.  'Frock Star', panted the Sun.  The Bishop 'stole the show…and is the 'new Pippa Middleton'' He left for the US, the Sun continued, 'leaving Britain still raving about his electrifying sermon.' The Bishop 'just stole the show', said Vox.com 'Prince Harry and Meghan were all but upstaged by the Episcopal priest's fiery sermon….You might say Curry just made the Anglican communion great again.'
'The Rev Michael Curry', tweeted Ed Miliband, 'could almost make me a believer, ' and Piers Morgan tweeted: 'Wow. Still reeling from Rev Curry. What a moment. What a man!' The BBC commentator Jeremy Vine said that the preacher was 'doing 50 in a 30 zone, and it's brilliant.' Continue reading →