Public opinion and governments wrestle with a difficult problem: whether or not to intervene in Syria. The standard arguments are well known – just war theory, humanitarian protection of civilian populations, the westphalian right of states to non-intervention, the risk of quagmires, deterrence against chemical weapons use… But the news that an American group has successfully 3D printed a working handgun may put a new perspective on things.
Why? It's not as if there's a lack of guns in the world – either in the US or in Syria – so a barely working weapon, built from still-uncommon technology, is hardly going to upset any balance of power. But that may just be the beginning. As 3D printing technology gets better, as private micro-manufacturing improves (possibly all the way to Drexlerian nanotechnology), the range of weapons that can be privately produced increases. This type of manufacturing could be small scale, using little but raw material, and be very fast paced. We may reach a situation where any medium-sized organisation (a small country, a corporation, a town) could build an entire weapons arsenal in the blink of an eye: 20,000 combat drones, say, and 10,000 cruise missiles, all within a single day. All that you'd need are the plans, cheap raw materials, and a small factory floor. Continue reading →
Sussex police have announced a scheme to fit people suffering from dementia with GPS tracking systems. These small devices will allow police to locate the wearer, and also allow the wearer to reach a 24 hour helpline by pressing a small button on the device. It has been claimed that these devices will save police time and resources, as well as reducing both the potential risk to dementia patients who go missing, and the anxiety that relatives of the missing person will feel when their loved one goes missing.
However, some parties have decried the introduction of this scheme as barbaric and inhumane. For example, Neil Duncan-Jordan, the national officer of the National Pensioners' Convention, claimed that the scheme serves to stigmatise sufferers of dementia by equating them with people who have committed a criminal act. Continue reading →
Advocates of even the mildest gun control reform in the US were dealt a serious blow yesterday, as the Senate failed to enact an expansion of background checks for gun purchases online and at gun shows.   Some have been quick to gloat over the result, while others were taken aback that the Senate could so blatantly ignore the will of the American people.  A number of polls have indeed shown massive support for background checks on gun purchases (upwards of 90%) – according to one survey, the proposal is even more popular than kittens.  This level of support predates the Sandy Hook massacre.  Political analysts will go to great lengths to explain how such a popular measure was voted down (the strength of the National Rifle Association's lobbying efforts play a large part, no doubt), but we can also ask whether it should have been – in particular, independent of the merits of the bill, whether politicians should not have flaunted the will of the people.   Continue reading →
Some researchers in the US recently conducted an 'experiment in the law as algorithm'. (One of the researchers involved with the project was interviewed by Ars Technia, here.) At first glance, this seems like quite a simple undertaking for someone with knowledge of a particular law and mathematical proficiency: laws are clearly defined rules, which can be broken in clearly defined ways. This is most true for strict liability offences, which require no proof of a mental element of the offence (the mens rea). An individual can commit a strict liability offence even if she had no knowledge that her act was criminal and had no intention to commit the crime. All that is required under strict liability statutes is that the act itself (the actus reus) is voluntary. Essentially: if you did it, you're liable – it doesn't matter why or how. So, for strict liability offences such as speeding it would seem straightforward enough to create an algorithm that could compare actual driving speed with the legal speed limit, and adjudicate liability accordingly.
This possibility of law as algorithm is what the US researchers aimed to test out with their experiment. They imagined the future possibility of automated law enforcement, especially for simple laws like those governing driving. To conduct their experiment, the researchers assigned a group of 52 programmers the task of automating the enforcement of driving speed limits. A late-model vehicle was equipped with a sensor that collected actual vehicle speed over an hour-long commute. The programmers (without collaboration) each wrote a program that computed the number of speed limit violations and issued mock traffic tickets. Continue reading →
I have just watched someone die. Just one person. But a whole ecosystem has been destroyed. Everyone's roots wind round everyone else's. Rip up one person, and everyone else is compromised, whether they know it or not. This is true, too, for everything that is done to anyone. Death just points up, unavoidably, what is always the case.
This is trite. But it finds little place in bioethical or medico-legal talk. There, a human is a discrete bio-economic unit, and there's a convention that one can speak meaningfully about its elimination without real reference to other units.
In some medico-legal contexts this is perhaps inevitable. There have to be some limits on doctors' liability. Hence some notion of the doctor-patient relationship is probably inescapable, and the notion requires an artificially atomistic model of a patient.
But ethics can and should do better. Continue reading →
Margaret Thatcher has died.  A few people have declared that this is grounds for celebration.  'A great day', they have announced.  Pop open the champagne. Continue reading →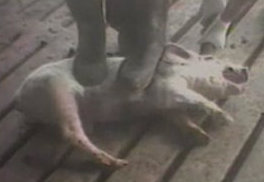 Covertly filming shocking animal abuse in the meat industry (and other industries involving animals) is a common tactic of animal welfare charities such as the Humane Society, Mercy for Animals, Animal Aid, and PETA. The footage is generally obtained by workers for the charities who gain employment at slaughterhouses, farms, laboratories and the like; and it has been instrumental in prosecuting abusers and applying pressure on meat producers to improve welfare standards, as the New York Times reported at the weekend.
The same article also reports a disturbing response to this practice by several US states:
They proposed or enacted bills that would make it illegal to covertly videotape livestock farms, or apply for a job at one without disclosing ties to animal rights groups. They have also drafted measures to require such videos to be given to the authorities almost immediately, which activists say would thwart any meaningful undercover investigation of large factory farms.
Those who flout this so-called 'ag-gag'  legislation may, among other things, be placed on a 'terrorist registry'.
It was reported yesterday that the Tate gallery has decided to remove prints created by the artist Graham Ovenden following his conviction for child sex offences (on Tuesday 2nd April). Ovenden's conviction itself raises difficult moral questions which I shall not address here. Ovenden is (or at least was) a celebrated portrait artist; he admitted to taking pictures of and painting nude children in the course of creating his portraiture, claiming that, in doing so, he was aiming to capture children in what he termed their "state of grace".  Although he vigorously denied allegations of paedophilia over the course of the trial, Ovenden was found guilty of six counts of indecency and one count of indecent assault.
There may well be room for debate about whether Ovenden is a paedophile or just a harmless, albeit esoteric, artist. However, I shall not address this question here; I shall assume throughout (rightly or wrongly) that the court is warranted in describing Ovenden as a paedophile. Rather, I am interested in the Tate gallery's response to the conviction, and more generally, the questions about the nature of art to which it gives rise. Continue reading →
Last weekend's work was greatly enlivened for me by keeping track of the updates for Trinity Jailbreak. The challenge: 37 student teams had 36 hours to get as far from Trinity College Dublin as possible, without spending any money. They were, however, allowed to blag, persuade, and get corporate sponsorship to aid their "getaways". Pre-contest, Donegal, Kerry, or perhaps Calais at a stretch seemed like likely winning destinations. However, this was grossly underestimating the resourcefulness of these students – with 1 hour to go, two teams were separated by less than 10km, frantically running in opposite directions – one in Indonesia, the other in Argentina, both >11,000 km from home.
From Trinity College Dublin's website: "Medical students, Claire and Matthew were named winners of the competition on Monday when they reached the sunny Atlantic coastal city of Mirimar, south of Buenos Aires. They managed to fly to Buenos Aires and take a taxi down the Argentine coast without spending any of their own money and without speaking Spanish. Musician Chris de Burgh stepped in to pay for their ticket home… Many of the students persuaded travel agencies to sponsor them and made it to Paris, the Vatican City and Warsaw during the event… Lydia Rahill of the Trinity Law Society expressed gratitude to all who supported the event through sponsorship and offers of food, accommodation and help with travel expenses."
The Challenge was organised on behalf of charity St. Vincent de Paul, which aims to fight poverty in Ireland, as well as Amnesty International, and had an original goal of raising €4,000 (~£3450). However, it caught the public imagination, and €10,000 had been raised by Monday, with €15,000 expected as a final tally. It's apparently even made it into Time Magazine.
"Very impressed with @TCDJailbreak. Brilliant way to raise money for charity and amazing to see how far you can get by just blagging" tweets one Irish celebrity.
A great success!
Or was it?
I'm taking anyone's best guess at how much all of these flights, accommodation, food and so on for the 37 teams would have added up to. It would take an age to find out, but it seems that it cost at least one team well over €4,000 (from Twitter: "@RoyalBruneiAir and Dermot Mannion are unbelievably generous, sponsored a @TCDJailbreak team w/ return flights to the tune of over €2000 each"). Now, only a few teams got as far as Indonesia, Brunei, Sydney (neither Brunei nor Sydney won due to missing the deadline) and Argentina – most stalled in Europe and some didn't make it past Ireland. But it's a near certainty that the overall cost of sponsoring this event is more than the expected €15,000 raised – I suspect a lot, lot more.
Which means the bottom line is: €15,000 to be raised for charity, >>€15,000 raised to sponsor "adventures for students".
There are a lot of positives about this challenge – it encouraged a great deal of resourcefulness in those taking part, and showed quite how far you can get from a starting position of very little. But as a charity event? Can we say 'the bottom line is €15,000 is going to good causes that wouldn't have otherwise'? Or is this an example of a hugely wasteful resource-gobbling 'charity challenge' with only a small fraction of the funds making it to the intended charities?
- Perhaps this just counts as 'good advertising' for the airlines and travel agencies that sponsored it, and that this money would have gone into more television advertisement otherwise.
- Perhaps the personal individuals who covered flights, food and accommodation just like sending students on holiday, and wouldn't have dreamed of sending this money directly to a charitable organisation if this event hadn't taken place.
However, the public landscape is littered with good causes which need our support. And when we, or celebrities, or corporations support one cause, it means resources that can't be allocated to another. When it comes to individuals, some literature suggests as well that biases such as "purchase of moral satisfaction" (Kahneman and Knetsch 1992) mean that people will spend just enough on a 'good cause' to have that warm, fuzzy feeling – it may not matter how much actual good that donation does in the world; it would seem to follow that if a better target comes along they will not be inclined to support it. So a wasteful charity stunt may hurt other charitable ventures by diverting resources in inefficient directions*.
A contrasting charitable challenge taking place shortly is Live Below The Line. People challenge themselves to live for £1 or less a day for five days, raising money while highlighting how severe the poverty line is. And it doesn't cost a huge amount to put on. If anything, those undertaking the challenge save money.
It's hard for me to say with certainty without a lot more background work whether the ultimate charitable contribution of "Jailbreak" has a plus or minus sign attached – a growing number of organisations such as Giving What We Can focusing on these types of considerations could give a much more thorough and careful analysis. However, these types of event are unlikely to represent the best way to do the most amount of good.
If you want to climb Kilimanjaro, climb Kilimanjaro. If you want to raise money for charity, find a challenge that doesn't cost large amounts of money and get sponsored for that. Then give the charity your Kilimanjaro travel money.
Responsible charities need to move away from association with costly, resource-gobbling stunts.
(Although in fairness, Argentina? That's some pretty good blagging.)
*It has also been pointed out that this event had a dinosaur-sized carbon footprint that is perhaps worth factoring in, but further discussion on issues such as these is outside the scope of this blog post.
D. Kahneman and J. L. Knetsch, Valuing public goods: The purchase of moral satisfaction, J. Environ. Econom. Manage., 22, 57-70 (1992).