Written by Stephen Rainey, and Jason Walsh
Rhetoric about free speech as under attack is an enduring point of discussion across the media. It appears on the political agenda, in various degrees of concreteness and abstraction. By some definitions, free speech amounts to an unrestrained liberty to say whatever one pleases. On others, it's carefully framed to exclude types of speech centrally intended to cause harm.
At the same time, more than ever the physical environment is a focus of both public and political attention. Following the BBC's 'Blue Planet Two' documentary series, for instance, a huge impetus gathered around the risk of micro-plastics to our water supply, and, indeed, how plastics in general damage the environment. As with many such issues people have been happy to act. Following, belatedly, Ireland's example, plastic bag use has plummeted in the UK, helped along by the introduction of a tax.
There are always those few who just don't care but, when it comes to our shared natural spaces, we're generally pretty good at reacting. Be it taxing plastic bags, switching to paper straws, or supporting pedestrianisation of polluted areas, there is the chance for open conversations about the spaces we must share. Environmental awareness and anti-pollution attitudes are as close to shared politics as we might get, at least in terms of what's at stake. Can the same be said for the informational environment that we share? Continue reading →

(Image: tctmd.com)
There is a dizzying circularity in much medical law. Judges make legal decisions based on the judgments of rightly directed clinicians, and rightly directed clinicians make their judgments based on what they think the judges expect of them. This is intellectually unfortunate. It can also be dangerous.
There are two causes: Judges' reluctance to interfere with the decisions of clinicians, and doctors' fear of falling foul of the law.
In some ways judicial deference to the judgment of professionals in a discipline very different from their own is appropriate. Judges cannot be doctors. The deference is best illustrated by the famous and ubiquitous Bolam test, which is the touchstone for liability in professional negligence cases.1 A doctor will not be negligent if their action or inaction would be endorsed by a responsible body of professional opinion in the relevant specialty.
In the realm of civil litigation for alleged negligence this deference is justified. The problem arises when the deference is exported to legal arenas where it should have no place. The classic example relates to determinations of the 'best interests' of incapacitous patients. Something done in relation to an incapacitous patient will only be lawful if it is in that patient's best interests. Continue reading →

Written by Doug McConnell
The 2018 edition of the football world cup has brought with it a renewed bout of hand wringing over 'simulation', e.g. players falling, diving, and tumbling under imaginary fouls, rolling around in mock pain, or clasping their faces pretending to have been hit. Stuart James writes in the Guardian that "play-acting has been commonplace at this World Cup. It's become a cancer in the game, not just a stain on it, and Fifa needs to find a cure." But what exactly is wrong with this behaviour? Why is the rise of this behaviour 'a cancer in the game'? Continue reading →
written by Andreas Kappes (@AnKappes), Anne-Marie Nußberger (@amnussberger ), Molly Crockett (@mollycrockett ) & Julian Savulescu  (@juliansavulescu)
Measles is making a comeback in Britain and Europe with numbers rising to record levels this year. Last year in Europe, measles killed 35 people, including young children . The re-emergence of measles can be traced to falling rates of vaccination and might make you want to re-think your summer plans. Crowded environments with low levels of hygiene, also known as summer festivals, are something to avoid if unsure about whether you have been properly vaccinated. And maybe re-think going for holidays to Romania, Italy and Greece, the countries with the highest rates of measles outbreaks this year.
But of course, even if you are not vaccinated, your chances of getting measles are low. And if you are infected, dying from measles is rare. The people that die during measles outbreaks are vulnerable babies that are too young to be vaccinated and unvaccinated people with compromised immune systems. And what are the chances that you infect one of these vulnerable people? Extremely low. Your intuition then might be that even if you are unsure about your vaccination status, the low odds don't seem to justify the effort to engage with the NHS or any other health care provider. Maximize your benefits, and others will surely be fine. Individually, this feels right, but for the communities and countries we live in, this is disastrous, slowly eroding herd immunity that protects the most vulnerable.
Written by Stephen Rainey
What happens after we die? This might be taken as an eschatological question, seeking some explanation or reassurance around the destiny of an immortal soul or some such vital element of our very being. But there is another sense that has at least as much importance. What should we do with dead bodies?
According to a Yougov survey from 2016, a majority of UK residents prefer cremation over burial, with their ashes scattered in some meaningful place. This could be good news, given the apparent dwindling of burial space globally. In the face of this sort of constraint, the re-use of graves becomes necessary, which can cause distress to the families of even the long dead.
Less commonly, dead bodies can be donated to medical science and put to use for purposes of research and medical training. Research suggests the rate is low owing to 'non-cognitive factors' such as 'the desire to maintain bodily integrity, worries that signing a donor card might 'jinx' a person, and medical mistrust.'
Maybe we should think again about how we treat dead bodies. There could come a time when cremation and burial might be considered a waste of resources, given the uses to which cadavers can be put. One body can be used to train many surgeons in complex procedures by being pared into relevant sections – individual limbs, organ systems, brains. Nevertheless, whilst a corpse is indeed a valuable object, it was also previously a subject. The nature of bodies as post-persons does seem to deserve some special consideration. If we can account for this, we might be in a position to recommend very generally why we ought to respect the bodies of the dead. Continue reading →
By Jonathan Pugh
The below is a slightly extended version of my two 5min presentations at the European Youth Event 2018, at the European Parliament in Strasbourg. I was asked to present on the following questions:
What are the ethical issues surrounding gene-editing, particularly with respect to eradicating mosquitoes?
Should the EU legislate on gene-editing mosquitoes?

By Charles Foster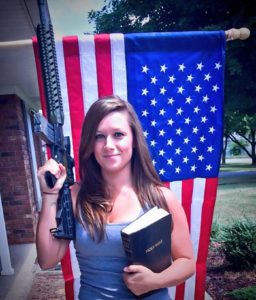 Image: Holly Fisher, a Conservative Christian blogger from West Virginia, posing with gun, Bible, and US flag:  from www.nydailynews.com
There was a near universal consensus that Bishop Michael Curry's sermon at the wedding of Prince Harry and Meghan Markle was magnificent.  'Frock Star', panted the Sun.  The Bishop 'stole the show…and is the 'new Pippa Middleton'' He left for the US, the Sun continued, 'leaving Britain still raving about his electrifying sermon.' The Bishop 'just stole the show', said Vox.com 'Prince Harry and Meghan were all but upstaged by the Episcopal priest's fiery sermon….You might say Curry just made the Anglican communion great again.'
'The Rev Michael Curry', tweeted Ed Miliband, 'could almost make me a believer, ' and Piers Morgan tweeted: 'Wow. Still reeling from Rev Curry. What a moment. What a man!' The BBC commentator Jeremy Vine said that the preacher was 'doing 50 in a 30 zone, and it's brilliant.' Continue reading →
The Minister of Justice in the UK wants to dramatically increase the use of chemical castration in sex offenders to reduce their risk of reoffending.Dr Tom Douglas (University of Oxford) argues that offering chemical castration to sex offenders might be a better option than current practices to prevent sex offenders from reoffending (e.g. incarceration), and responds to concerns about coercion and interfering in sex offenders' mental states (e.g. by changing their desires).
By Lauren Notini and Brian D. Earp
*Note: a condensed version of this article titled "Iceland's Proposed Circumcision Ban" is being cross-published at Pursuit.
For a small country, Iceland has had a big impact on global media coverage recently, following its proposed ban on male circumcision before an age of consent.
Iceland's proposed legislation seeks to criminalise circumcision on male minors that is unnecessary "for health reasons," stating individuals who remove "part or all of the sexual organs shall be imprisoned for up to 6 years."
The bill claims circumcision violates children's rights to "express their views on the issues [concerning them]" and "protection against traditions that are harmful."
According to bill spokesperson Silja Dögg Gunnarsdóttir, a key reason for the bill is that all forms of female genital cutting (FGC), no matter how minor, have been illegal in Iceland since 2005, but no similar legislation exists for males.
"If we have laws banning circumcision for girls," she said in an interview, then for consistency "we should do so for boys." Consequently, the bill is not specific to male circumcision, but adapts the existing law banning FGC, changing "girls" to "children."
There is much to unpack here. We first discuss self-determination and informed consent, before addressing claims about potential health benefits and harms. We then explore the religious significance of circumcision for some groups, and ask what implications this should have.
By Stephen Rainey
Around a decade ago, Facebook users were widely playing a game called 'Scrabulous' with one another. It was pretty close to Scrabble, effectively, leading to a few legal issues.
Alongside Scrabulous, the popularity of Scrabble-assistance websites grew. Looking over the shoulders of work colleagues, you could often spy a Scrabulous window, as well as one for scrabblesolver.co.uk too. The strange phenomenon of easy, online Scrabulous cheating seemed pervasive for a time.
The strangeness of this can hardly be overstated. Friends would be routinely trying to pretend to one another that they were superior wordsmiths, by each deploying algorithmic anagram solvers. The 'players' themselves would do nothing but input data to the automatic solvers. As Charlie Brooker reported back in 2007,
"We'd rendered ourselves obsolete. It was 100% uncensored computer-on-computer action, with two meat puppets pulling the levers, fooling no one but themselves."
Back to the present, and online Scrabble appears to have lost its sheen (or lustre, patina, or polish). But in a possible near future, I wonder if some similar issues could arise. Continue reading →