Responses to the UK COVID-19 Challenge Studies: 
"In a pandemic, time is lives.  So far, over a million people have died.

"There is a moral imperative to develop to a safe and effective vaccine – and to do so as quickly as possible.  Challenge studies are one way of accelerating vaccine research.  They are ethical if the risks are fully disclosed and they are reasonable.  The chance of someone aged 20-30 dying of COVID-19 is about the same as the annual risk of dying in a car accident.  That is a reasonable risk to take, especially to save hundreds of thousands of lives.  It is surprising challenge studies were not done sooner.  Given the stakes, it is unethical not to do challenge studies."
Prof Julian Savulescu, Uehiro Chair in Practical Ethics, and Director of the Oxford Uehiro Centre for Practical Ethics, and Co-Director of the Wellcome Centre for Ethics and Humanities, University of Oxford
"Human challenge studies are an important and powerful research tool to help accelerate our understanding of infectious diseases and vaccine development.  They have been used for many years for a range of different infections.

"The announcement of the UK Human Challenge Program is a vital step forward for the UK and the world in our shared objective of bringing the COVID-19 pandemic to an end.  With cases climbing across Europe, and more than 1.2 million deaths worldwide, there is an urgent ethical imperative to explore and establish COVID-19 challenge trials.

"All research needs ethical safeguards.  Challenge trials need to be carefully designed to ensure that those who take part are fully informed of the risks, and that the risks to volunteers are minimised.  Not everyone could take part in a challenge trial (only young, healthy volunteers are likely to be able to take part).  Not everyone would choose to take part.  But there are hundreds of young people in the UK and elsewhere who have already signed up to take part in COVID challenge studies.  They deserve our admiration, our support and our thanks."
Prof Dominic Wilkinson, Professor of Medical Ethics, Oxford Uehiro Centre for Practical Ethics, University of Oxford
Further Research
Read more about the ethics of challenge studies:
By Dominic Wilkinson @Neonatalethics and Michael Dunn @ethical_mikey
In a high court case reported last week, a judge strongly criticised a London hospital's clinical ethics committee (CEC). The case related to disputed treatment for a gravely ill nine-year old child. There had been a breakdown in the relationship between the clinical team and the child's parents. Prior to going to court, the clinicians had referred the case to the CEC. The committee had heard evidence from the medical professionals involved, and apparently reached consensus that further invasive life prolonging treatments were not in the child's best interests. However, the committee had not involved the parents in the meeting. The judge found this omission striking and regrettable. She noted
"a lack of involvement by patients and/or their families is itself an issue of medical ethics and I am most surprised that there is not guidance in place to ensure their involvement and/or participation. … the absence of any prior consultation or participation, cannot be good practice and should generally be unacceptable."
Continue reading →
Written by Farbod Akhlaghi (University of Oxford)
Suppose you have a moral obligation to take care of your ailing parent tomorrow. If you did something that would lower your chances of fulfilling that moral obligation – like going out partying all night tonight – would you thereby have done something morally wrong?
We do things that affect our chances of fulfilling our moral obligations all the time. They range from the most mundane, like taking a specific route from one place to another where you ought to be doing something at the latter place, to acts like smoking, abusing drugs, or severely neglecting one's physical and mental well-being. Call actions that affect our chances of fulfilling our moral obligations in the future chance-affecting actions.
Whilst moral obligations are hotly debated in moral philosophy, there has been little to no direct discussion of the moral status of affecting the chances of fulfilling such obligations. This should surprise us. For they are a pervasive feature of our lives: many daily choices we make affect our chances of ultimately doing what we ought to do in the future. And the mere fact that it is, other things being equal, right to do what we are obligated to and wrong not to does not settle whether it is right or wrong to affect our chances of meeting our obligations. So, it seems morally urgent to ask: might we, for example, act wrongly when we make it less likely that we will fulfil an obligation in the future?
Written by Ben Davies
I recently watched an excellent panel discussion, 'Statues, Slavery and the Struggle for Equality' with Labour MP Dawn Butler, historian David Olusoga, philosopher Susan Neiman, chaired by writer Yassmin Abdel-Magied. The discussion was wide-ranging but, as the title suggests, included a focus on the recent resurgence of demands to remove various statues of figures associated with the slavery and colonialism. One example that will have escaped few readers of this blog is the University of Oxford's own statue of Cecil Rhodes, which has been the subject of the 'Rhodes Must Fall' movement since 2015 and is once again in the headlines. Since initially writing this blog, Oriel College has voted to remove the statue; but it is still important to interrogate the university's (rather than the college's) initial response.
Written by Stefan Schubert
Utilitarianism is often associated with two psychological features.
First, acceptance of instrumental harm for the greater good. The utilitarian is famously willing to kill one to save five in the trolley problem.
Second, impartial beneficence. The utilitarian is equally concerned with everyone's well-being, irrespective of their gender, nationality, or species. And they don't privilege themselves over others.
The recent Oxford Utilitarianism Scale defines utilitarian tendencies in terms of these two features.
On this view, you need to have a somewhat unusual psychology to accept utilitarianism. On the one hand, an unusual level of altruism towards all. On the other hand, a willingness to break taboos against harm for the sake of the greater good.  Continue reading →
Written by: Dr Amna Whiston
In this seminar (available on podcast), Professor Arthur Schafer discussed the ethical challenges involved in the Canadian euthanasia debate at the New St Cross Special Ethics Seminar (online). Professor Schafer, who has written extensively over the last thirty years about a range of topics that includes professional and bio-medical ethics, having been a long-standing proponent of the view that allowing people to die with dignity enriches our rights as humans, critically addressed the question of whether Canada is currently heading in the right direction regarding the legalization of medical assistance in dying.
Autonomy, as Professor Schafer reminds us, is one of the core Canadian values, and this is reflected through the public battle against the prohibition of assisted suicide.  Back in 1993, (Rodriguez v. British Columbia [Attorney General]), the majority of the Supreme Court of Canada urged that at that time there was no public consensus among Canadians that the autonomy interest of people wishing to end their lives is paramount to the state interest in protecting the lives of its citizens. In recent years, Canadian public opinion has undergone a significant shift in favour of the autonomy interest of irredeemably suffering patients who, with no hope of recovery, wish to end their lives with dignity. In June 2016 the Canadian Parliament passed a legislation bill legalizing medical assistance in dying, which has now become legally permissible in several American states (Oregon, Washington State and Montana) and in a number of European nations (the Netherlands, Belgium, Switzerland, and Luxemburg). Today more than two-thirds of Canadians support the new legislation which makes it legally permissible for doctors to help the terminally ill to end their lives. This fact, nonetheless, leaves open a more general question (beyond the Canada context) of whether constitutional rights should be settled by opinion poll.
by Roger Crisp
Utilitarianism is in the news. It was widely believed that the UK government's so-called 'herd immunity' strategy, which involved sacrificing the important interests of a relative few for the sake of benefits for the many, was motivated by a commitment to utilitarianism. Now several commentators around the world have suggested that decisions to ease lockdowns so as to 'open economies' can also be seen for similar reasons as utilitarian. Continue reading →
By Charles Foster

It has been a terrible few months for moral philosophers – and for utilitarians in particular. Their relevance to public discourse has never been greater, but never have their analyses been so humiliatingly sidelined by policy makers across the world. The world's governments are all, it seems, ruled by a rather crude vitalism. Livelihoods and freedoms give way easily to a statistically small risk of individual death.
That might or might not be the morally right result. I'm not considering here the appropriateness of any government measures, and simply note that whatever one says about the UK Government's response, it has been supremely successful in generating fear. Presumably that was its intention. The fear in the eyes above the masks is mainly an atavistic terror of personal extinction – a fear unmitigated by rational risk assessment. There is also a genuine fear for others (and the crisis has shown humans at their most splendidly altruistic and communitarian as well). But we really don't have much ballast.
The fear is likely to endure long after the virus itself has receded. Even if we eventually pluck up the courage to hug our friends or go to the theatre, the fear has shown us what we're really like, and the unflattering picture will be hard to forget.
I wonder what this new view of ourselves will mean for some of the big debates in ethics and law? The obvious examples are euthanasia and assisted suicide. Continue reading →

Written by Alberto Giubilini
Wellcome Centre for Ethics and Humanities – Oxford Uehiro Centre for Practical Ethics
University of Oxford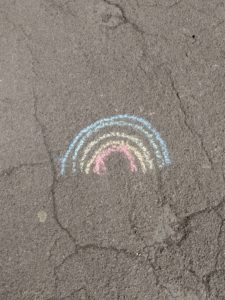 Main point:
Lockdown measures to contain the spread of COVID-19 have so far been compulsory in most countries. In the same way, use of contact tracing apps should be compulsory once lockdown measures are relaxed. And in the same way, vaccination should be compulsory once the COVID-19 vaccine is available.
We can think of the lockdown as a form of 'social immunization', of contact tracing apps as a form of 'technological immunization', and of course of vaccination as pharmacological immunization. The same reasons that justify compulsory lockdown also justify compulsion in the other two cases.
Written by Joshua Parker and Ben Davies
One of the impending tragedies of the COVID-19 pandemic is a grave mismatch between the supply of ventilators and the numbers needing them. This situation, as seen in Italy, is predicted to be mirrored here in the UK. Coronavirus can cause acute respiratory distress syndrome for which the management is mechanical ventilation on the ICU. This represents these patients' only chance at survival. Part of the response to the incoming tsunami of patients requiring ventilation is to produce more ventilators. This is a reasonable way to try to lessen the mismatch between supply and demand. However, producing more ventilators cannot be the solution in isolation. As a complex piece of medical equipment, ventilators need trained staff to operate them and provide the additional care ventilated patients require. There has been a significant push to attempt to ensure enough ventilator trained staff as possible. Both staff and ventilator shortages present significant issues; yet it is shortages of ventilators that account for the bulk of ethical discussion so far. It is therefore worth exploring some of the ethical problems that might arise should there be plenty of ventilators, but not enough staff.